Agents Search Michael Peevey's Home In PG&E Judge-Shopping Case
by Jaxon Van Derbeken, San Francisco Chronicle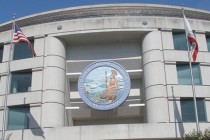 State investigators seized computers and other items from the homes of former California Public Utilities Commission President Michael Peevey and an ousted Pacific Gas and Electric Co. executive at the heart of the judge-shopping controversy that has embroiled the regulatory agency for months, The Chronicle has learned.
Investigators with the attorney general's office executed a search warrant Tuesday at the home Peevey and his wife, Democratic state Sen. Carol Liu, share in La Cañada Flintridge (Los Angeles County), court documents show. The agents seized computers, smartphones and a thumb drive, a small data-storage device, according to the records.
State investigators also seized a computer and other items Tuesday from the Orinda home of former PG&E Vice President Brian Cherry, court documents show. He and two other PG&E executives were fired in September when the utility released e-mails showing that Cherry had negotiated with utilities commission officials, including Peevey's chief of staff, to name a judge the utility preferred to oversee a $1.3 billion rate-setting case.
State Attorney General Kamala Harris and the U.S. attorney's office opened separate investigations into the judge-shopping case to determine whether any laws were broken.
Continue reading on SFGate.com »
Tags: CPUC, San Bruno Explosion