Appeals Court OKs Record Penalty Against PG&E
by Vanessa Blum, The Recorder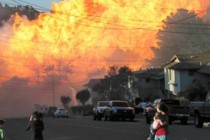 A California appeals court on Tuesday upheld a $14.35 million fine levied against Pacific Gas & Electric Co. by the California Public Utilities Commission for providing false information to the commission in the wake of the 2010 San Bruno pipeline explosion.
In a 63-page order, the First District Court of Appeal determined the fine, the largest ever imposed by the PUC for a violation of its ethics rule, was not unconstitutionally excessive. The commission's calculation was based on a $50,000-per-day penalty running from the time PG&E discovered its error to the day it was formally corrected to the agency's satisfaction by PG&E's lead counsel at Orrick, Herrington & Sutcliffe.
"Although the amount is large, so is the real and potential harm caused by PG&E's inaction," Justice James Richman wrote in a decision joined by J. Anthony Kline and Marla Miller. "PG&E does not argue that it lacks the ability to pay the fine."
The company said in a statement Tuesday evening that it does not plan to appeal the court's ruling.
The PUC unanimously approved the penalty in December 2013, writing in its order that the fine should send a "strong signal" to regulated utilities.
Continue reading on The Recorder website » The Recorder limits free pageviews per month
Tags: CPUC, PG&E, San Bruno Explosion