Holiday Gift Privacy Guide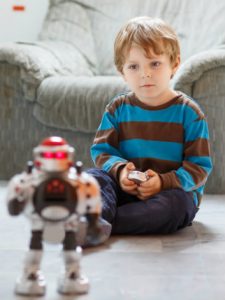 This holiday season, make sure that the latest tech gadgets on the market are not invading the privacy of you or someone you love.
Some of this season's more popular home products and children's toys are equipped with geo-locational tracking, infrared sensors that detect movement, and microphones and cameras that record your or your child's words and image. Many require an additional app download to work properly. But while your child plays or you enjoy the gadget, who is tracking, viewing, or selling your data?
Recent news has reported that "smart" appliances from baby monitors to wearable health tech are often coded with poor security, can be easily hacked and are vulnerable to data breaches. Poorly designed apps for toys can be just as dangerous and obtrusive.
Below is a round-up of some of the worst offenders.
Home Products
Google Home This is Google's "always listening" smart speaker system and home entertainment hub. Aside from the information Google already collects and stores from your Gmail and internet searches, Google Home would also know when you're home and when you're out, and can record intimate conversations you have within your home.
Amazon Echo The Echo is Amazon's version of a smart home system. Critics have noted the same issues as Google Home, even reporting instances of Amazon Echo using snippets of conversation within the home for targeted online advertising.
Children's Toys
My Friend Cayla/I-Que Intelligent Robot (Genesis Toys Inc.) According to the European Consumer Organization (BEUC) both My Friend Cayla and I-Que Intelligent Robot "fail miserably when it comes to safeguarding basic consumer rights, security, and privacy." Moreover, the toys have come under serious criticism for their pre-programmed messages that endorse commercial products.
Kidizoom Smartwatch (VTech) VTech makes many children's products with "smart" capabilities, and operates a large online network called Learning Lodge. VTech users were the target of the 4th largest consumer data breach in 2015: almost 5 million parents' personal information was stolen, as well as the names, genders, and birthdays of 200,000 child users. Common Sense Media stated the company "failed to use basic security measures."
Chip (WowWee) CHiP is an artificially intelligent robot dog that utilizes voice commands, Bluetooth, and other inputs to develop a "personality" by learning about its users and surroundings. The manufacturer does not have an easily obtainable privacy policy for their apps or products, and did not provide a copy when Privacy Revolt! requested one.
Star Wars BB8 App-Enabled Droid (Sphero) Due to the tie-in with the popular Star Wars franchise, this toy is at the top of many retailers' hot gift lists. While the robot itself doesn't collect much information, to get full use it must be paired with an app that does– and shares it with third parties.
This is only a partial list. It's always wise to research the potential for privacy invasion of any "smart" device.