PG&E's Judge Shopping Outrages State PUC Employees
by Jaxon Van Derbeken, San Francisco Chronicle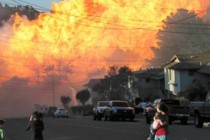 California Public Utilities Commission employees expressed outrage at a staff meeting over a judge-shopping scandal involving top agency officials and Pacific Gas and Electric Co., with some demanding the resignation of the commission's president.
At an extraordinary gathering that filled the commission's auditorium in San Francisco to overflowing, attorneys, administrative law judges and other staffers voiced their frustration with officials who promised to help PG&E get the administrative law judge it wanted to hear a rate case that could cost customers more than $1 billion.
Many of the employees directed their anger at commission President Michael Peevey, who headed the agency when the PG&E pipeline explosion in San Bruno killed eight people and leveled 38 homes in 2010. To the applause of other employees, one staffer called Peevey "something like an untouchable mob boss" able to "float above any scandal."
Peevey did not attend the staff meeting Thursday. Officials at the agency's San Francisco headquarters called the session after Peevey's chief of staff resigned and three PG&E executives were fired over what the commission called "inappropriate" back-channel communications to pick an administrative law judge for the rate case.
'Screwed royally'
In e-mails that PG&E released Monday, one of the fired utility executives told Peevey's aide that the judge initially assigned would pose a "major problem," and that the utility had been "screwed royally" by a prospective replacement judge.
Peevey aide Carol Brown, who responded that she was "working on" changing the judge, resigned as the president's chief of staff this week but remains with the agency as an administrative law judge. Peevey said he would recuse himself from hearing a proposed $1.4 billion penalty against PG&E for the San Bruno explosion.
Another commission member, Mike Florio, who e-mailed PG&E that he would "do what I can on this end," has apologized but has not recused himself from any cases. He says he took no action to help PG&E in the rate case.
That case will decide how the cost of post-San Bruno pipeline improvements will be divided between customers and shareholders. PG&E is seeking to have its customers pick up nearly $1.3 billion in costs.
The company's choice, administrative law Judge John Wong, was named to the case in January. He has not issued a ruling.
Peevey criticized
Thursday's staff meeting was restricted to agency employees, but The Chronicle obtained a tape of the hour-long session. Much of the criticism was aimed at Peevey, whose nearly 12-year tenure atop the agency was marred by the National Transportation Safety Board's finding that the utilities commission had been overly lax in its regulation of PG&E before the San Bruno disaster.
"He never seems to be affected by it," one commission staffer said. "He can just walk through."
One employee who addressed the commission's executive director, Paul Clanon, threatened "a mass staff rebellion" should Peevey be reappointed by Gov. Jerry Brown to another six-year term in December.
Clanon acknowledged at one point that "judge shopping" had occurred and said he was "shocked" when he read the e-mails. He promised a "root and branch" review of how well the commission is following rules barring informal communications with the utilities it regulates.
But many in the audience were not convinced.
"Are we just going to throw a couple of people under the bus, or are we going to look at the real causes in our culture that create this kind of corruptness and basically sleazy environment?" one staff member asked.
Call for resignations
"I want to be proud to work for the state of California, and I want to be proud to work for this place," the staffer added. "Who is giving us our marching orders to behave this way?"
She added, "I also believe that Commissioner Peevey should step down. I believe Commissioner Florio should step down."
Florio, a former longtime attorney for the consumer watchdog group The Utility Reform Network, has said he was unaware of the rules against informal communications with utilities. The staffer said she didn't believe him.
"He is an attorney and he worked for a group that was allegedly protecting consumers, and if he doesn't know judge shopping is wrong, then he's got a problem."
A staffer who works for the safety division of the agency said that if he had "engaged in similarly wrong conduct, my termination would be immediate."
Another noted that PG&E itself, not the commission, had made the e-mail exchanges public. "If PG&E hadn't conducted this audit, would this type of behavior have continued?"
Clanon told the employees that he would seek outside help in making changes. "We need a look from somebody who is not part of our culture," he said.
Karen Clopton, the agency's acting general counsel, was the chief administrative law judge when Wong was assigned to the PG&E rate case. She spoke at the meeting and sought to "disabuse anyone of the notion that anyone within in the administrative law judge division did anything inappropriate."
She stressed that its officials were "equally upset and offended" by the e-mails as other staffers. "In fact, more so."
She also pleaded with staffers to keep their complaints in-house, calling it "inappropriate to be communicating with the newspapers."
Call for criminal probe
On Friday, two state legislators and the mayor of San Bruno demanded that state Attorney General Kamala Harris open a criminal investigation into whether commission officials broke the law in the judge-shopping case.
"I'm not an attorney, but if this isn't collusion, I don't know what is," said AssemblymanKevin Mullin, a San Mateo Democrat who joined state Sen. Jerry Hill, D-San Mateo, and San Bruno Mayor Jim Ruane in delivering a letter to Harris' office in San Francisco calling for a criminal probe.
Nick Pacilio, a spokesman for Harris, said, "The attorney general takes allegations of improper behavior by public officials very seriously. We have received the letter and will review it."
Tags: CPUC, PG&E, San Bruno Explosion, The Utility Reform Network