Report Calls For CPUC Reforms
by Jeff McDonald, San Diego Union-Tribune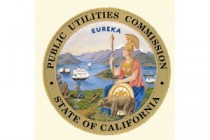 The California Public Utilities Commission for years has based multibillion-dollar decisions not on public debate or evidentiary records but rather on secret meetings and influences by the companies it regulates, an independent report has found.
The wholesale lack of compliance with the rules and inclination to favor private corporations over the public good begins at the very top of the organization, the analysts said.
"Where were these officials' ethical compass?" asks the report, which was released late Monday. "What made them think this was appropriate conduct for a CPUC commissioner or a member of a commissioner's personnel staff?"
The independent review by an outside law firm was requested by the commission last year, after publicly released emails showed the depth and breadth of access and influence that utility executives enjoyed with regulators.
Outlined in detail over 178 pages, the review includes dozens of recommendations aimed at balancing the scales between utilities and consumer groups and restoring public trust in the commission.
Foremost, the report said, the commission should ban most of the so-called ex parte communications — backchannel discussions between regulators and stakeholders that too often result in decisions that are more favorable to utilities.
"There is little doubt that, at least in some cases, ex parte meetings are the place where commissioners' opinions are formed," the report stated. "Sophisticated participants in CPUC proceedings maintain staffs and devote resources to the regular pursuit of influence over commission decisions through extensive ex parte contacts."
Continue reading on utsandiego.com » 
Download the independent review (186 pages) »