San Bruno Officials Denounce Gov. Brown's Veto Of CPUC Reforms
by KPIX 5, CBS Local San Francisco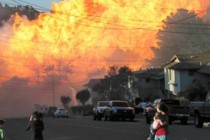 San Bruno city officials were "extremely disappointed" Friday by Governor Jerry Brown's veto of half a dozen bills intended to reform the California Public Utilities Commission in the wake of a deadly pipeline explosion, according to City Manager Connie Jackson.
The package of bills by legislators including state senators Mark Leno, D-San Francisco, and Jerry Hill, D-San Mateo, were intended to increase transparency and public access to information at the CPUC, which has suffered a series of scandals in recent years.
In his veto messages, Brown said that he supported the intent of the bills and many of their proposals, but feared that they would result in increased litigation, complication and delays without improving the public's access to information. In addition, some would require additional funds.
"I am directing my office to work with the authors on drafting these reforms and to ensure the Commission receives the necessary resources to implement them swiftly and effectively," Brown said.
San Bruno city officials have spent the past five years seeking to hold PG&E and CPUC officials accountable since a Sept. 9, 2010 gas pipeline explosion in their city killed eight people and destroyed an entire neighborhood. Investigations and litigation following the blast have uncovered sloppy record keeping and poor safety practices within the utility and an overly cozy relationship with the commission regulating it.
Continue reading on the KPIX 5 website »
Tags: 2015 Legislation, CPUC, PG&E, San Bruno Explosion