SB 383 would provide some privacy for online purchases
by Editorial Board, Sacramento Bee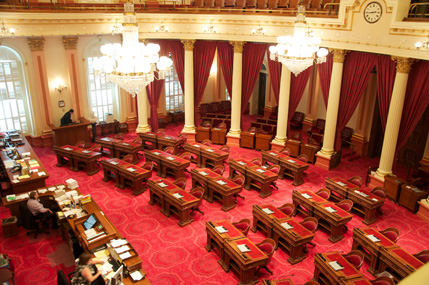 The California state Senate can help allay consumer concerns about data breaches by approving a modest bill this week that would offer some privacy protections for online purchases.
A year ago, the California Supreme Court ruled that a 1990 statute intended to shield the personal information of people using credit cards from prying brick-and-mortar retailers did not apply to music downloads and similar online transactions.
"Unlike a brick-and-mortar retailer, an online retailer cannot visually inspect the credit card, the signature on the back of the card, or the customer's photo identification," the court noted.
In its narrow ruling, the four-justice majority suggested that the Legislature revisit the issue.
A bill by Sen. Hannah-Beth Jackson, D-Santa Barbara, stalled last year in the face of formidable lobbying by Apple, the California Chamber of Commerce, bankers and other major business interests. Jackson, working with the Consumer Federation of California, has narrowed the bill in an attempt to soften the opposition.
Given ever increasing threats to privacy, the Senate should take the side of consumers by approving her revised Senate Bill 383 and sending the measure to the Assembly for further review.
As it's now written, online retailers offering music and similar downloads could verify credit card purchasers' legitimacy by requesting ZIP codes and the numerical portions of their street addresses. They also could store the information to guard against fraud.
"As usual," The Bee wrote in an editorial last Feb. 6, "there are a lot of inconsequential bills being bandied about the Capitol this session. Here's an issue worth the Legislature's time, where it can do some real good."
Online retailers have real needs to guard against fraud and identity theft. But online purchases can reveal highly personal information, including medical issues, sexual orientation, financial status, dating interests and political views.
Jackson's legislation would provide some protection to consumers and to online retailers.