State Regulator Says PG&E May Be Too Big To Operate Safely
by Jaxon Van Derbeken, San Francisco Chronicle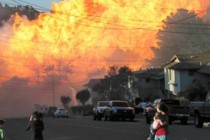 Minutes after the California Public Utilities Commission levied a record $1.6 billion penalty against Pacific Gas and Electric Co. on Thursday for the deadly San Bruno pipeline explosion, the state's top regulator said the utility is still plagued by gas-system problems, shrugs off even the harshest sanctions and may be too big to operate safely.
Despite promising to make reforms after the September 2010 blast that killed eight people and leveled 38 homes, PG&E has been cited repeatedly in recent years for violating natural-gas safety regulations, commission President Michael Picker noted at the panel's meeting in San Francisco.
If PG&E is failing to establish a safety culture, and we continue to see more accidents and violations, what are our tools?" Picker said, pointing to a chart showing that safety citations skyrocketed in 2013.
"Is the organization simply too large — spread across a sizable portion of a large state, and encompassing diverse functions such as both gas transmission and gas distribution, as well as electric service — to succeed at safety?" Picker said.
Picker said the state's lawyers would look into the question, and gave no details about what steps the commission might take. But he suggested that PG&E's profitability made it immune, even to hefty penalties such as the one the utilities commission approved Thursday on a 4-0 vote.
Continue reading on SFGate.com »
Tags: CPUC, PG&E, San Bruno Explosion