Can You Afford That Payday Loan? Feds Say Lenders Should Ask
by James Rufus Koren, Los Angeles Times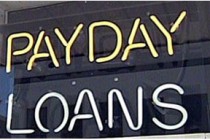 The Consumer Financial Protection Bureau will release a set of sweeping proposals Thursday aimed at reshaping the market for payday loans and other types of expensive credit that both the agency and consumer advocates call "debt traps."
The proposed regulations, set to be released in advance of a Kansas City, Mo., hearing, come after years of preparation by the bureau, which has since 2013 released several reports critical of the payday-lending industry.
The rules would limit the number of payday loans a consumer can take out each year, change how lenders collect payments and require them to do a more thorough review of borrowers' finances to make sure they can afford to repay their loans.
Though consumer advocacy groups back parts of the proposal, some are concerned the rules don't go far enough, leaving ample opportunity for consumers to still get bad deals. Lenders, meanwhile, are chafing at the proposal, which they say will add to their costs and make it unprofitable to make loans to many consumers.
In remarks prepared for Thursday's hearing, CFPB Director Richard Cordray said lenders too often make loans knowing that borrowers will not be able to pay them off, locking them into a cycle of debt.
Continue reading on the Los Angeles Times website » The Times limits free daily pageviews per month
Tags: CFPB, Payday Loans