Auditor gives high marks to PUC consumer support program disliked by utilities and corporations
by Ken Broder, AllGov.com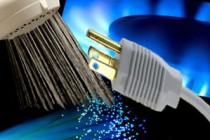 When consumers square off with big corporations and utilities before California's Public Utilities Commission (PUC), it helps to have help. And they get some from the state, which funds the Intervenor Compensation Program to pay certain individuals and groups to participate in proceedings.
Big corporations and utilities don't like the program and have agitated against it for years. Last August, in response to claims that Utilities Consumer Action Network and other intervenors were abusing the process and being paid too much, the joint Legislative Audit Committee ordered state Auditor Elaine Howle to take a look at it.
The Utility Reform Network (TURN) Executive Director Mark Tomey said at the time that the audit request was "politically motivated retaliation for our effectiveness."
The audit was released this week, and the program received high marks.
Auditors found that compensation levels for intervenors were not too high, and in fact chastised the PUC for underpaying in some cases because it wasn't applying market rates. One of the report's main criticisms was that the commission was too slow in making payments, racking up about $40,000 in interest payments it could have avoided.
It also noted that the commission regularly violated the requirement that intervenors be given preliminary notice of their eligibility to receive compensation within 30 days of petitioning for acceptance, which might discourage some from participating.
The auditors found the intervenors to be uniformly suitable to assist consumers and were, in many cases, consumers themselves. It called the process of determining their compensation "robust" and thorough. The commission awarded $25.5 million for 337 claims that intervenors submitted from 2008 through 2012.
The intervenor compensation program gives nonprofit and citizen groups support in battling mega-corporations with tons of resources, including PUC-savvy lawyers.
Consumer Federation of California Executive Director Richard Holober, whose group was among the intervenors studied in the audit, says the program "has saved California consumers billions of dollars by scaling back outlandish rate hike proposals, and by reining in bait and switch advertising and other deceptive industry practices."
And, according to the auditor, they've done it at discount prices.