California Now Allows Firms To Tell Consumers A 'Made In USA' Lie
by David Lazarus, Los Angeles Times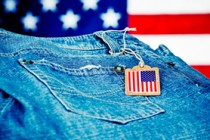 California long required that any manufacturer wanting to say that a product is made in America must, in fact, have a product that's made in America.
A new state law changes that — and makes it practically impossible for consumers to know whether a made-in-America product contains foreign parts.
Gov. Jerry Brown signed a bill, SB 633, this month that allows California companies to say "made in America" as long as their products are mostly made in America — 90% American-made, to be precise.
Assemblyman Brian Jones (R-Santee), who co-wrote the legislation with state Sen. Jerry Hill (D-San Mateo), said requiring that made-in-America products be completely made in America placed an "overly burdensome regulation" on California businesses.
"I'm pleased that Gov. Brown signed this bill into law, allowing for manufacturers to market their products proudly displaying the 'Made in America' label,'" Jones said.
This isn't as goofy as it sounds, though it's still a head fake for consumers.
All other states follow a standard laid down by the Federal Trade Commission. The agency defines products as being made in America if "all or virtually all" the parts were produced in the United States.
The only goods that have to disclose country of origin are cars, textiles, wool and fur.
Continue reading on latimes.com » The Times limits free pageviews per month.
Tags: 2015 Legislation, CFC Sponsored Legislation, Deceptive, Made In USA