California's "Made in USA" label stays strong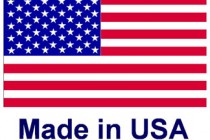 The American brand embodies self-reliance, self-sufficiency, and independence, and products made in the USA are known to be made with high standards that provide good wages for workers. These values are what motivate many of us to buy American.
A recent Gallup poll indicated that 45% of people surveyed recently made a special effort to buy American products, mainly citing patriotic reasons related to the economy and creating and keeping jobs in this country. 64% said they would be willing to pay more for a U.S.-made product than a similar foreign-made product.
When most of us see a Made in USA label, we assume the product is actually made domestically. But what Californians might not realize is that the weakening of Made in USA standard has been up for debate in our state – this year with AB 890 and SB 661.
Introduced by Assemblymember Brian Jones, AB 890 attempts to transform California's no-exception labeling standard to the less-stringent federal definition, which would have turned existing California law on its head. California's standard of determining the legitimacy of a Made in USA claim is more defined than the Federal Trade Commission's (FTC) standard, which allows products to carry the label if they are "all or virtually all" manufactured in the U.S. The FTC does not clarify the amount of foreign content that can pass its "all or virtually all" test. The other 49 states follow these more lenient and ambiguous federal guidelines.
SB 661, introduced by Senator Jerry Hill, would permit a product to be offered for sale in California bearing a Made in USA label if only 90% of the cost of the content is domestic. Current California law prohibits companies from making Made in USA product claims unless each part comes from the United States.
CFC strongly opposes any attempt to overturn the 2011 ruling of the California Supreme Court, which upholds an important truth-in-advertising law. The Court found that a consumer suffers economic harm if deceived into making a purchase relying on the accuracy of the Made in USA label, and affirmed, "Simply stated: labels matter. The marketing industry is based on the premise that labels matter, that consumers will choose one product over another similar product based on its label and various tangible and intangible qualities they may come to associate with a particular source."
As for the argument that truth in advertising makes it more difficult and is a barrier for California businesses, the state's Made in USA law does not offer an out-of-state manufacturer any advantage. The law applies to all products offered for sale in our state, regardless of the manufacturer's physical location. The playing field is level; products manufactured in California that meet the federal standard could still carry the label in the other 49 states.
Businesses that actually provide 100% American-made products rely on accurate labeling when they undertake campaigns to encourage consumers to buy their products. Without standards for the Made in USA label, companies could mislead consumers without fear of liability.
Attempts have been made in the past to dilute California's Made in USA standard. Just last year, Assemblymember Jones introduced a similar bill that CFC and other consumer groups also opposed – and it was rejected.
AB 890 was rejected by the Senate and SB 661 was held by the author, but the battle isn't over yet. CFC will continue the fight in 2014 because they have both become 2-year bills.