Can You Trust the Hotel Review Sites?
by Robert McGarvey, MainStreet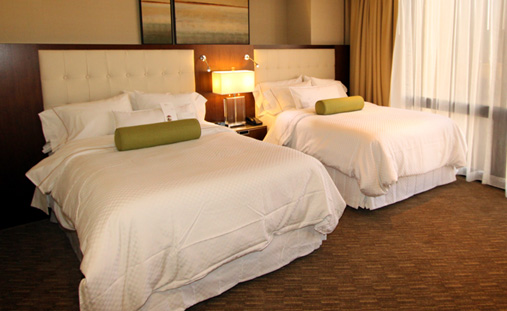 The question is blunt: can you trust the hotel review sites (read: TripAdvisor primarily, but there are many others)?
Your comfort on your next trip – maybe even your safety – rides on the answer.
Smart, savvy people increasingly depend on these sites. Said Rachel Braun Scherl, a principal at consulting firm Spark Solutions for Growth: "On our most recent family trip to Paris, we referred to TripAdvisor. So many people have recommended the site to us. I have found the reviews to be incredibly accurate and helpful."
Personally, I did likewise on a recent vacation in Rome, taking a $2,000 plunge on a hotel I had never heard of but the location was right and the TripAdvisor reviews, most of them, were very positive.
Is that sane?
The fact is that, probably, today's review sites are the best consumer guideposts for hotels we have ever had, and beyond that, experts say there are ways to guess if a review is a phoney.
Go back just five years, and the vast majority of reviews of hotels were written by travel writers who had gotten a "comped" – free – room that probably came with a free meal, maybe a massage or a round of golf. How many of those reviews tilted negative?
And in the 21st century the Internet begat crowdsourced reviews by ordinary citizens and, yes, this system is not perfect. But in lots of ways, it produces much more reliable feedback. When real people, who have spent their own money, offer commentary on a hotel, you have to want to listen.
You need, however, to know about the many fake reviews – self-congratulatory reviews posted by a hotel on itself and some even post smears of competitors. How common is this? Analyst firm Gartner has estimated that by the end of 2014, 10% to 15% of reviews on social media and review sites will be paid or outright fakes.
Others find similar. A recently published Harvard Business Review report looked at Yelp reviews of metropolitan Boston restaurants and estimated that 16% are fake. That's eateries, not hotels of course, but the same worries arise.
But the researchers also found common threads that help identify fakes. In the HBR study, for instance, the researchers suggested that when a restaurant's reputation is weak, it is more likely to commit review fraud. Also, when a restaurant faces increased competition it is more likely to post negative reviews of competitors.
Similar applies to hotels, as found by three business school profs – Dina Mayzlin (USC), Yaniv Dover (Dartmouth) and Judith Chevalier (Yale and NBER) – who recently studied reviews on Expedia and TripAdvisor. They concluded that fake reviews are most likely to be posted by hotels that are independent, owned by small owners, are managed by a small management company and have a competitive neighboring hotel. Chain hotels rarely commit this offense, and neither do ones owned by large REITs – and that's a lot of the hotel universe.
Want to know if a review is fake? Understand that TripAdvisor and Yelp both spend heavily on analytics designed to smoke out fraud. That info is proprietary, but recognize the big review sites have your back because without credibility of their reviews, they literally have nothing. They both filter out a lot of bogus reviews before they ever post.
But many nonetheless get online. How can you better protect yourself? My advice is start by limiting interest to hotels that have a substantial number of reviews – at least 100 on TripAdvisor. The Rome hotel I booked into has 435, and big numbers probably mean there are many legit write-ups.
Is that fair to new hotels and to very small ones? Probably not, but it is fair to my wallet.
Next step: ignore the outliers – fake reviews, multiple researchers have found, tend to be too positive or too negative.
Look for themes. If many guests complain about street noises, probably the hotel is on a loud street. If only one does, ignore the kvetching of a light sleeper. If many guests praise a concierge, he's your go-to guy. If only one does, you know his mother is active online.
Keep sifting and it becomes commonsense. You'll know in your gut when reviews are fake and when they are sincere posts by real consumers.
Want to go up a level of confidence beyond the review sites? Crowdsource focused feedback, but do it from channels you already trust. Adi Bitten, the CEO of feedback channel OwnerListens, explained: "When I find something I like, I go to my network on Facebook, Twitter, Linkedin etc. and ask if anyone has been to that hotel and what their experience was like. There's still nothing like a personal testimonial from someone you know."
You know your friends, you know their taste (or lack thereof) and that means this is verification worth seeking.
Because, again, your comfort hinges on it, and that makes it worth the extra steps.