Consumer Federation of California's 2023 Policy Agenda
CFC is sponsoring or co-sponsoring the following 7 bills in the current legislative session:
CFC-Sponsored Six-Bill Junk Fees Package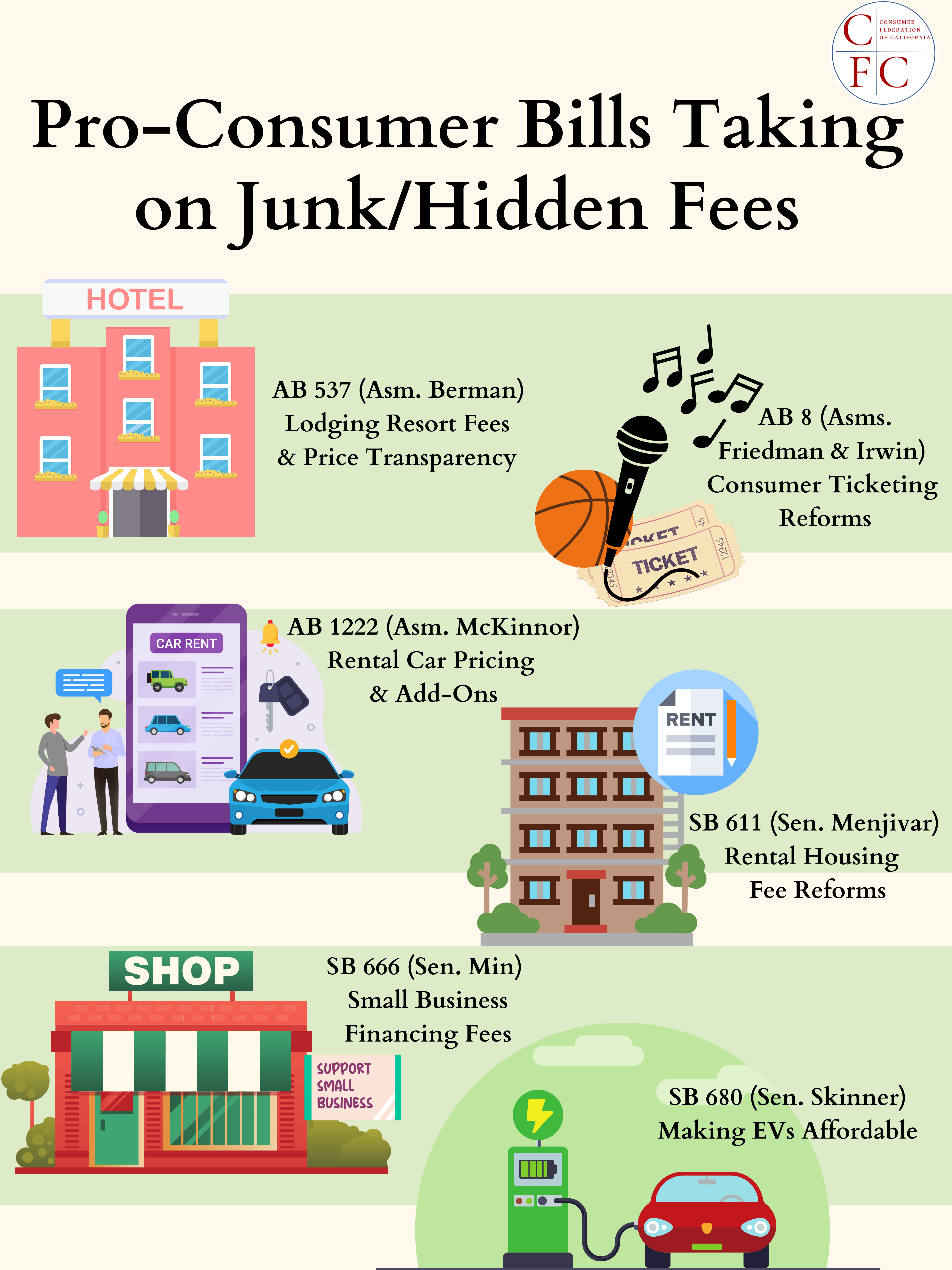 A multi-bill package sponsored by CFC and a wide range of consumer and small business organizations to crack down on so-called "junk fees." CFC has worked on this topic for years, and now the pernicious nature of these fees and the negative impact they have on consumers and their pocketbooks are being widely recognized and driving important public policy changes. Some 85% of Americans have had direct experience in one form or another with hidden or junk fees. These fees are deceptive, infuriating, and unnecessary. That's why President Biden and some leading Republicans agree that combating these junk fees is important.
The White House: Readout of White House State Legislative Convening on Combatting Junk Fees
SB 611: Residential Rental Properties: Fees and Advertisements [Passed Senate]
As renting becomes the most "affordable" option for consumers unable to afford to buy a home, junk and hidden fees have seen a staggering increase, forcing renters to pay much more than the advertised price per month for a rental unit. From high application fees required at each potential rental location to excessive fees for processing, convenience, administration, trash, late fees, and more, fees are hidden rent increases. These junk fees render safe and decent rental housing out of reach because renters must pay them on top of exorbitant fees, jeopardizing access to future housing and financial stability. For many renters these fees can lead to debt, haunting renters long after they have vacated a housing unit – whether they left because of an eviction case or voluntarily moved out – and continuing the cycle of housing insecurity in the state. SB 611 by Senator Caroline Menjivar (D – San Fernando Valley/ Burbank) will increase housing and financial stability by requiring transparency in California's rental housing market. 
Selected media coverage and editorials (registration may be required): 
SB 666: Small Business: Commercial Financing Transactions [Passed Senate]
With the decline of traditional small business bank lending and lack of scale from most microlenders and CDFIs, online lending is filling the access to capital gap with little to no oversight. While not all online lending is predatory, if a deal sounds too good to be true, it often is. It is not uncommon to find small business financing with interest rates of higher than 50 percent – some even reaching 350 percent – without these rates being disclosed to the borrower. Often, high fees are wrapped in these high APRs. Unregulated commercial lenders often charge large sums to small businesses as duplicate fees or fees that do not provide a clear, corresponding service. SB 666 by Senator Dave Min (D – Irvine) will protect small business owners by prohibiting small business lenders from charging fees to an origination fee without clear, corresponding service and other certain junk fees imposed on small business owners. 
AB 8: Small Business: Consumer Ticketing Reforms  [Passed Assembly]
Whether purchasing tickets for a concert or sporting event, more and more consumers are finding themselves misled by hidden fees and other unfair tactics that can make it hard to find the true price of a ticket, and faced with limits on consumer control over what they can do with their own ticket once purchased. Transparency is critical to ensure a fair marketplace. By not revealing the full price of the ticket – including fees – upfront, ticket vendors are misleading consumers and trying to make comparison shopping more difficult, frequently requiring them to pay fees that are up to 27-30% more than the advertised price. Assembly Bill 8, by Assembly members Laura Friedman (D – Burbank) and Jacqui Irwin (D – Thousand Oaks), would achieve a more transparent ticket-buying process for consumers, where the advertised price is the final price. Additionally, AB 8 would stop online ticket vendors from artificially influencing ticket supply and controlling how consumers resell tickets after they are purchased, as well as better protect the data of consumers who use ticket resale platforms. 
AB 537: Lodging Resort Fees and Price Transparency [Passed Assembly]
Deceptive advertising in the lodging industry has increased over the last few years, with many hotels, motels, and short-term rentals not disclosing hidden fees upfront. The practice of advertising low prices and then adding mandatory fees to the total in the final stages of a purchase, also known as "drip pricing", has been found to cause consumers to underestimate the total price and spend more than they planned. Across the U.S., hotels generated approximately $3 billion from mandatory fees in 2018 alone, an 8.5% increase compared to 2017. Assembly Bill 537 by Assembly Member Marc Berman (D – Menlo Park) would make it illegal for lodging establishments to advertise or offer a room rate that does not include all fees and taxes required to stay in the room. This bill will apply to losing establishments, so-called "consolidator" sites, and alternatives such as Airbnb. 
AB 1222: Rental Car Pricing and Add-ons 
After their rental cars (or alternatives to rental cars, such as Turo) are returned, some consumers find numerous add-on fees in addition to the rental cost, charging in some cases up to $400 for "cleaning fees". Many consumers have found that rental car companies don't make full disclosure of their charges until their car has been returned, leaving consumers no other choice but to pay. Assembly Bill 1222 by Assembly Member Tina McKinnor (D – Los Angeles) will enhance California's rental car disclosure law by ensuring that all fees and charges are disclosed at the time a quote is given to a consumer. This bill will also ensure that a rental company only advertises, or quotes, a rental rate that contains the entire amount, including all applicable taxes and additional fees or charges. Disproportionately high add-on fees to consumers may also be addressed.
---
Other non-junk fees related legislation: 
SB 296 (Dodd): In-Vehicle Cameras  [Passed Senate]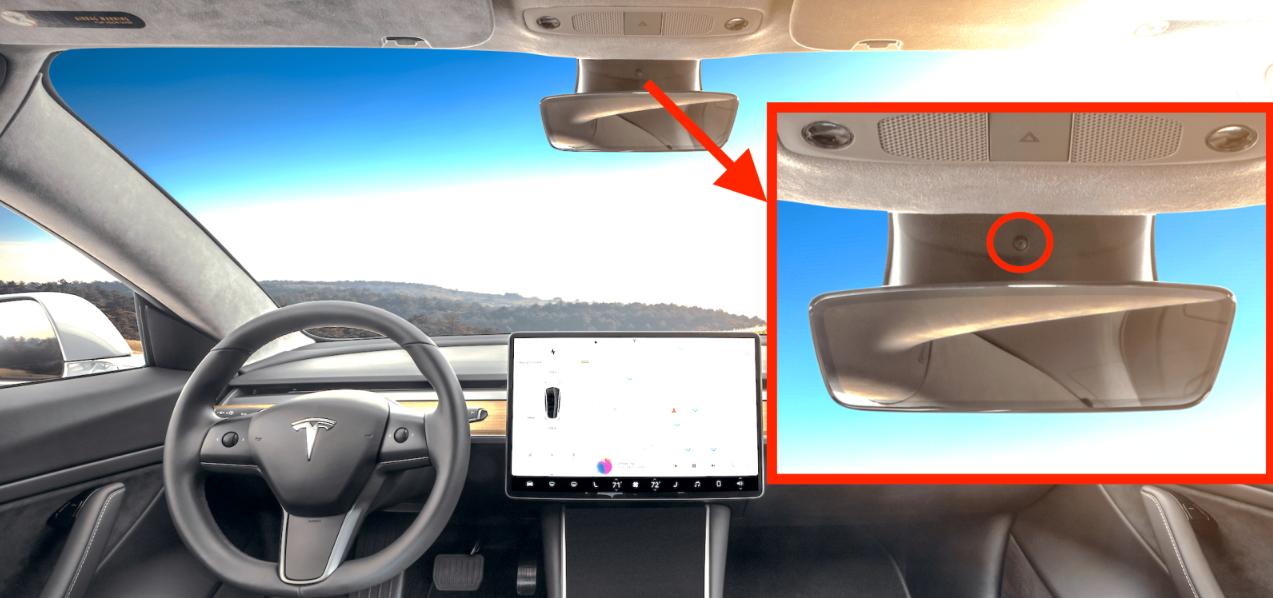 One of the growing trends in vehicle technology is that more and more vehicles are required with in-vehicle cameras that look inside your car. Consumers spend a lot of time in their vehicles running errands, commuting to work, or going on road trips and the increase of in-vehicle cameras installed in vehicles potentially puts consumer's privacy at risk. SB 296 by Senator Dodd (D – Napa) would enhance consumer protections by requiring that consumers be informed at the time of purchase if an in-cabin camera is in a car, and prohibit video recordings from that camera from being used for advertising or sold to third parties. 
Links to selected media coverage and editorials (registration may be required):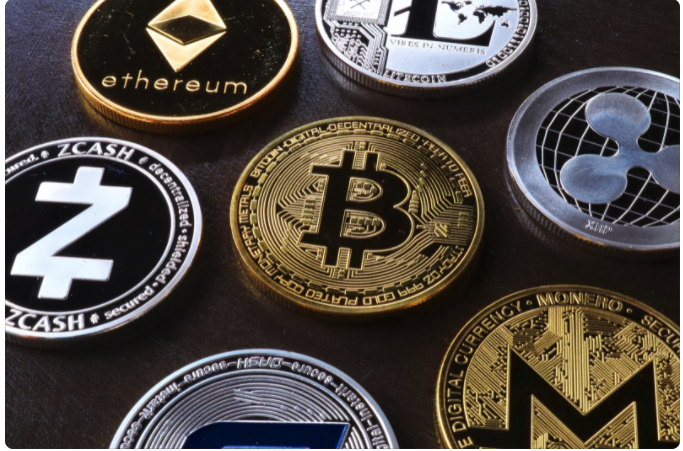 AB 39 (Grayson): Digital Financial Asset Businesses: Regulatory Oversight [Passed Assembly]
Digital financial assets, including cryptocurrencies and crypto exchanges, have exponentially grown over the past few years without proper regulation or consumer protections. This has directly led to massive scams, so-called "rug pulls" where asset prices are manipulated, investment-related frauds, and substantial losses that significantly target low-and-moderate income communities and communities of color. Overall evaluation of the crypto market went from approximately $3 trillion before crashing down to less than $1 trillion in less than a year. AB 39 by Assemblymember Grayson (D – Concord) will license and regulate the activities of cryptocurrency exchanges in order to protect Californians from financial hardship and foster responsible innovation. 
Selected media coverage and editorials (registration may be required): 
CFC- Supported Legislation
CFC-Opposed Legislation