CFPB May Let You Sue Your Bank Instead Of Going To Arbitration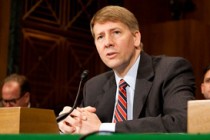 The Consumer Financial Protection Bureau is weighing potential rules that would ban financial firms from using arbitration clauses to block customers from pursuing group lawsuits to win relief in disputes.
Contracts for many financial products such as credit cards, bank accounts and student loans contain clauses that typically state either the company or the consumer can require disputes to be resolved by privately appointed arbitrators, rather than the court system.
The clauses typically also block consumers from pursuing group claims through the arbitration process.
Financial and business groups generally support arbitration as a more efficient and less expensive way of resolving disputes over their services. A 2013 U.S. Supreme Court ruling reinforced the right of companies to set their own rules for resolving disputes with customers, a decision that limits class-action lawsuits in such disagreements.
However, consumer organizations contend that forced arbitration improperly limits customers' options and potential recovery.
"Consumers should not be asked to sign away their legal rights when they open a bank account or credit card," CFPB Director Richard Cordray said. "Companies are using the arbitration clause as a free pass to sidestep the courts and avoid accountability for wrongdoing."
Continue reading on USA Today's website »
Tags: Banks, CFPB, Class Action, Credit Cards, Deceptive, Predatory Lending