Consumer Advocate Focuses His Energies On Revamping Prop. 13
by Melanie Mason, Los Angeles Times
Prop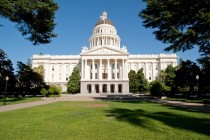 Lenny Goldberg has been trying to revamp Proposition 13 for nearly 40 years. And for nearly 40 years, California's landmark property-tax law has remained unchanged.
Goldberg's self-described success rate: "pretty miserable."
But he says that with a broad grin, without a hint of dejection. At 69, Goldberg, a legislative staffer-turned-lobbyist, has made a career of assailing the politically hallowed tax limit. Along the way, he became the political left's go-to wonk, battling tax breaks for businesses and advocating for consumers against utility companies.
Starting next month, he'll no longer be a registered lobbyist. Instead, he'll focus all his energy on the elusive target: Proposition 13.
"It's Lenny's white whale," says Tom Hayden, a former state senator who has known Goldberg since their student activist days.
As the law's most persistent critic, Goldberg has become the intellectual heart of the movement to change it — in particular, to alter the way commercial properties are taxed. Such efforts have consistently been stymied in Sacramento, but now Goldberg and his allies are eyeing a different front: the ballot box, hoping voters can be persuaded that the 1978 measure needs updating.
Continue reading on the Los Angeles Times website, which limits free monthly page views »
Tags: Lenny Goldberg, Prop 13