Corinthian Closing Its Last Schools; 10,000 California Students Displaced
by Chris Kirkham, Los Angeles Times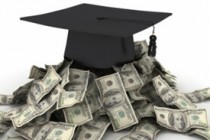 After years of government investigations, Corinthian Colleges Inc. will shut down more than two dozen of its remaining schools, displacing more than 10,000 California students. The move ends the turmoil at what was once one of the nation's largest for-profit college chains but presents fresh challenges to students, who now must seek transfers or federal loan forgiveness.
The loans were both the lifeblood and the downfall of the troubled Orange County company. Easy access to student debt fueled high tuition and big profits — until the federal government cut off the tap last year, as investigators accused Corinthian of falsifying job placement rates.
Many students, attracted by the promise of higher-paying work, now find themselves with heavy debts for degrees of dubious worth. Many others won't graduate at all.
"A lot of us are devastated," said Dylan Low, 22, who was pursuing a criminal justice associate's degree at Everest College-Ontario and had only three more classes to finish before graduation in July.
The closure, announced Sunday, had been expected for months, but Corinthian gave students and employees almost no notice.
For many observers of the for-profit college industry, Corinthian's meteoric rise and fall offers a cautionary tale for other institutions that rely almost entirely on funding from federal student loans and grants.
Continue reading on the Los Angeles Times website » The Times limits free Pageviews per month
Tags: For-Profit Colleges, Student Loans