Corinthian Colleges discloses Fed's probe of job placement numbers
by Ricardo Lopez, Los Angeles Times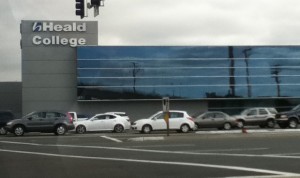 Federal regulators are investigating for-profit college chain Corinthian Colleges Inc. for falsifying job-placement rates, adding to at least a dozen other state and federal investigations into the company's business practices, Corinthian disclosed in an earnings statement Wednesday.
The Santa Ana company also said that the Department of Education has denied approval for new programs and locations until it provides more information on its students and where they land jobs after graduation.
The disclosure is the latest of Corinthian's legal and regulatory woes. The company is already the subject of several state and federal inquiries, including one in California. In October, Atty. Gen. Kamala D. Harris sued Corinthian Colleges, accusing the company of false and predatory advertising, securities fraud and intentional misrepresentations to students.
In a call with investors, Corinthian chief executive Jack D. Massimino said the company "strongly disagree[d] with the Department's characterization that we admitted wrongdoing, but plan to cooperate with the inquiry."
Massimino also told investors that the Consumer Financial Protection Bureau is considering taking legal action against the company over its student lending programs.
"We continue to believe that our acts and practices relating to our student lending programs are lawful," according to a transcript of the call.
Regarding the Department of Education's action, the federal agency said it denied approval for new locations and programs "because CCI has admitted to falsifying placement rates and/or grade and attendance records at various institutions and because of ongoing state and federal investigations," the Jan. 23 letter read.
The company believes federal regulators are referring to "isolated instances over a four-year period when we detected false or erroneous information."
Massimino said the company has yet to meet with officials from the Department of Education.
Department officials have asked for a list of Corinthian alumni's and their employers' contact information to verify their placement data.
Three other for-profit college companies have also been the subject of similar inquiries.
Corinthian's stock is down more than 40% in the past year. It closed Wednesday at $1.30.