Corinthian Students To Get $480 Million Relief From 'Predatory' Loans
by Chris Kirkham, Los Angeles Times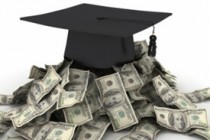 For years, government investigators have zeroed in on Corinthian Colleges Inc., a Santa Ana for-profit college operator accused of roping students into unmanageable debt by promising bright careers after graduation.
As part of a deal Tuesday that finalized the sale of more than 50 Corinthian schools, students are getting a reprieve.
As many as 170,000 students who took out private loans offered by Corinthian will see an immediate 40% reduction in their balances — about $1,880 on average — with additional reductions likely in the future. All students will see a 20% tuition reduction. And those enrolled in poor-performing programs can seek a full refund or transfer into another program.
"It will be real and meaningful relief for tens of thousands of students," said Pauline Abernathy, vice president of the Institute for College Access & Success, an Oakland nonprofit that advocates on student debt issues.
But the $480-million private loan forgiveness program doesn't go far enough, she said.
Continue reading on the Los Angeles Times website » The Times limits free page views per month.
Tags: CFPB, For-Profit Colleges, Predatory Lending, Student Loans