CPUC Boss Equated Safety Advocate With Mass Murderer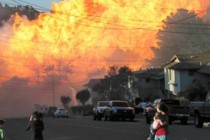 Days after the 2010 PG&E gas explosion that killed eight, hospitalized many more and leveled 38 San Bruno homes, the Executive Director of the California Public Utilities Commission emailed a vice president at the company, equating pipeline safety advocate Mark Toney with an infamous mass murder.
Perhaps a more sensible comparison might have been made between mass killer PG&E and the 1960s-era Boston Strangler, but not from the standpoint of state officials who cozied up to profitable utilities they are supposed to regulate.
Mark Toney is the Executive Director of TURN (The Utility Reform Network), a consumer rights organization. Toney's crime in the eyes of PG&E was to demand that the company put its customers' safety first.
This is one tidbit gleaned from classic "data dump" – some 65,000 emails, released late on a Friday afternoon in hopes that they would fade into the din of Super Bowl weekend –that is producing a steady drumbeat documenting the cynicism of regulators at the CPUC, and the watchdog agency's outright collusion with Pacific Gas & Electric.
The email trail was released in response to a lawsuit filed by the city of San Bruno. At a time when protecting public safety was an urgent need, the communications show that much of the regulators' and utility's attention was instead fixated on muzzling its critics, in particular, Mark Toney.
In one particularly ghoulish email to Brian Cherry, at the time a vice president of PG&E, then-CPUC Executive Director Paul Clanon jokingly equated Toney with a mass murderer.
"When Cherry asked in another Sept. 20 email about the possibility that critics of PG&E would be named to a panel investigating the San Bruno blast, Clanon joked that 'Mark Toney and the Boston Strangler' were being considered," Chronicle investigative reporter Jaxon Van Derbeken reported. The Boston Strangler murdered 13 women in the 1960s.
Van Derbeken's Jan. 31 article reports that the emails show PG&E "executives traded jokes and back-slapped with state regulators" in the days following the San Bruno disaster, and "provide a singular insight into what critics say is an overly cozy relationship" between the utility and CPUC's leadership.
The drumbeat of revelations continues as state and federal prosecutors pursue their own investigations and journalists continue to sift through the 65,000 emails:
PG&E already faced 28 charges handed up by a federal grand jury probing possible violations of pipeline safety laws, obstruction of justice and other crimes; the latest disclosures will likely figure in that action.
Allegations of "judge-shopping" to get rulings favorable to PG&E have led to the firing of Cherry and other utility executives. Clanon resigned at the end of 2014. Discredited longtime CPUC President Michael Peevey's term expired a month ago.
Last month state investigators raided Peevey and Cherry's homes, seizing computers and other materials, and so far PG&E faces as much as $1.4 billion in fines from the San Bruno blast – a record.
These emails confirm that the independent voices and dedicated public servants at the CPUC who want the agency to fulfill its statutory mission have been suffocated by the regal attitude and corporate cronyism that have pervaded its highest offices. CFC plans to work with our allies in the consumer movement to reform the CPUC. California residents deserve a regulatory agency that looks out for the public interest.
Tags: CPUC, PG&E, San Bruno Explosion, The Utility Reform Network