CPUC Head Michael Peevey to Step Down
by Jaxon Van Derbeken, San Francisco Chronicle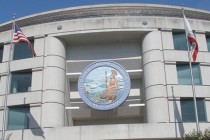 The president of the California Public Utilities Commission, who came under fire for the agency's lax regulation of Pacific Gas and Electric Co. before the deadly San Bruno explosion and for recent revelations of back-channel communications with utility executives, said Thursday he would not seek reappointment to the agency when his term ends in December.
"I originally planned to make the following announcement at the CPUC's regularly scheduled voting meeting on Oct. 16, but instead I am moving the announcement to today to state that I will not seek reappointment to the CPUC," commission President Michael Peevey said in a statement. "Twelve years as president is enough."
Peevey, 76, is completing his second six-year term as head of the five-member commission, which regulates PG&E and the state's other utilities. His successor will be named by Gov. Jerry Brown.
Peevey made his statement the same day state Sen. Jerry Hill, D-San Mateo, announced plans to introduce a bill to force him out.
"This is unbelievable. I'm really excited about it," Hill said. "I don't believe he would have gotten reappointed by the governor."
Hill added, "Now we need to rebuild the PUC. That's the good news. We can start the process of changing the culture at the Public Utilities Commission to protect the public."
Tags: CPUC