CPUC Lawyers Say Bosses Kept Quiet on Judge-shopping Order
by Jaxon Van Derbeken, San Francisco Chronicle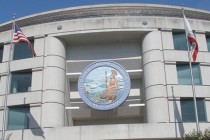 Lawyers with the state commission that regulates Pacific Gas and Electric Co. say the agency's bosses didn't pass along an order from state Attorney General Kamala Harris' office to safeguard evidence as prosecutors investigate a judge-shopping case involving the utility and top public officials.
In a memo addressed to the five members of the Public Utilities Commission, obtained by The Chronicle, 13 attorneys with the agency said the first they heard of the order was when they read about it on a newspaper's website.
Harris' office told the commission on Sept. 19 to preserve any e-mails or other evidence related to back-channel communications between PG&E and regulatory officials. The lawyers said they learned of the order "by chance" when the Sacramento Bee reported on it last week.
The attorneys called on the commissioners to compel the agency's executive director, Paul Clanon, to cooperate with investigations by state and federal prosecutors into whether the communications between PG&E and the state agency broke any laws.
Those communications show that a PG&E vice president secretly and successfully lobbied two commissioners and their staffs to have a preferred judge assigned to a rate-setting case arising out of the San Bruno pipeline explosion.
Tags: CPUC, San Bruno Explosion