Cracking Price Tag Codes
by Jim Donovan, CBS 3 Philadelphia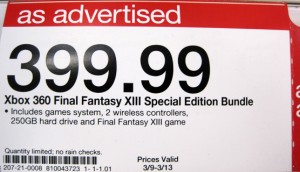 When you go shopping are you always in search of bargains? Well we've got a deal for you! What if we were to show you a way to determine if you're really getting a store's lowest price? As 3 On Your Side Consumer Reporter Jim Donovan finds, all you have to do is crack the codes.
When is a sale price really a steal? Or a clearance tag so low there's no place else to go? According to Kyle James, "Most consumers look at the dollars, they don't look at the cents." It's those cents and symbols on a price tag that could unlock the secret to saving money. "Is it full price? Is it a discounted price? Is it maybe going to go even cheaper?," says James, founder of RatherBeShopping.com.
He says stores like BJ's Wholesale Club, Sam's Club, and even Office Depot often encode sale information in the last two digits of an item's price. James says, "Typically the stores will do it as an internal pricing system for their employees to know where to stock certain products."
For example, James says at Sears a price ending with 97 cents indicates a discontinued item, 88 cents means a final markdown. At Gap and Old Navy prices ending in 47, 49, 97 or 99 cents indicate a discontinued or clearance item.
At the Home Depot look for prices ending with 06. That would be the lowest markdown. A green shelf tag at Home Depot also means that the item is a closeout or discontinued.
James says that at Costco an asterisk on the price tag means a it's a discontinued item. While at Target, he advices shoppers to look closely at the top right hand corner of the clearance tags. He says, "You'll see this little number. It will be 15, 30, 50, 75 or 90, and what that is the actual percentage off the original price." So the higher that number the better!
"You are learning the tricks of the trade basically. If you know some of these codes and know some of the color codes you can probably save some money,' says Edgar Dworsky of ConsumerWorld.org. But then you still have to decide when to act. Dworsky says, "do I take it at 50% because I really want that and they don't have too many, or do I wait until 70%?"
But cracking the codes can certainly help. After all, James says, "Someone who thinks this is a waste of time is really leaving money on the table." And you don't want to do that!
There's no need to memorize all these prices and codes. In fact, Kyle James has created a cheat sheet that will perfectly in your wallet. To print it out visit: https://www.rather-be-shopping.com/assets/PriceSecrets.pdf.
Tags: Consumerism