Credit cards from Amazon, Office Depot, Staples, Best Buy, Toys R Us have highest APRs
by Chris Morran, Consumerist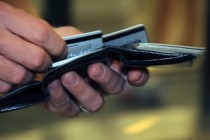 It can be so tempting – You're about to make a big purchase at a retail store when the cashier says you can save all sorts of money by applying for a store credit card. But what they rarely make clear to you is that the card you're applying for often comes with a sky-high interest rate – and those rates are going higher.
The folks at CreditCards.com have released their annual survey of store-branded credit cards, and according to their numbers the already high average APR for these cards has increased to 23.23%, two percentage points higher than last year's average.
The survey looks at 61 different cards – 32 "in-store-only" cards that are only good for purchases at the issuing retailer; 27 "use-anywhere" cards that are co-branded with the store and a major card network and can be used at other retailers; and two debit cards.
The average interest rate for the use-anywhere cards (21.63%) is slightly lower than the overall average but is still higher than the APR most consumers see on a bank-issued credit card. At that rate, it's still unwise to carry a balance for too long.
Meanwhile, the in-store-only cards average a headache-inducing 24.48% APR. The only sensible way to use these cards is to make the promotional purchase, get whatever discount it promises, then pay off the balance immediately.
Some cards, often the co-branded use-anywhere ones, have APRs that vary wildly depending on the cardholder's creditworthiness. For example, Meijer has two cards in the survey. Its Meijer Platinum MasterCard has an APR that ranges from 19.99% to 23.99%. But its in-store-only Meijer Credit Card has an ouch-worthy set APR of 26.99%.
OfficeMax's co-branded Visa Signature Card has the lowest APR in the survey, a very attractive 9.99%, but that same card could also go as high as 23.99%.
Sharing the same parent company doesn't guarantee consistency across credit cards. Signet Jewelers operates brand-name jewelry stores like Jared, Kay, and Zales. The first two bling retailers have in-store-only cards that each range between 17-24.99%, while Zales' card has the highest APR on the entire survey at 28.99%. Given that Signet just recently acquired Zales, it's possible that the retailer might eventually be brought in line with the company's other store cards.
Also joining Zales in the list of companies with max. APRs of at least 25%:
Amazon: Store credit card (25.99%)
Best Buy: My Best Buy Credit Card, My Best Buy Preferred Credit Card (25.24-27.99%)
Dick's: Store credit card (26.99%)
Home Depot: Store credit card (26.99% max. APR)
Home Goods: TJX rewards card (26.99%)
JCPenney: Store credit card (26.99%)
Marshalls: TJC rewards card (26.99%)
Meijer: Store credit card (26.99%)
Office Depot: Store credit card (27.99%)
Sears: Store credit card (25.24%)
Staples: Personal credit account (27.99%)
TJ Maxx: TJX rewards card (26.99%)
Toys R Us: R Us credit card (26.99%)
Tractor Supply Co.: Store credit card (25.99%)
True Value: Store credit card (25.99%)