Daily Deal Sites Now Full of Deceptive Discounts
by Patricia Lopez, ABC 13 Houston
Flash sale and discount websites are hot shopping destinations for consumers who want to find bargains on luxury and designer goods.
But some of these sites are now selling their own trademarked brands and advertising an original and discounted price. In many cases the merchandise is not available anywhere else.
Shopper Lora Tusinski says she has saved hundreds of dollars on designer items on flash sale sites. When a Barrow and Grove sweater caught her eye on Gilt.com, she ordered it right away.
"Actually, when I got the item I really liked it," Tusinski said.
What she didn't know is that Barrow and Grove is actually a private label owned by Gilt.
"When I bought the item, no, I didn't have any idea," Tusinski said.
That sweater is one of hundreds of products popular flash sale and discount websites are now creating.
A review of federal records revealed Rue La La, One Kings Lane, Zulily, Ideeli, and Gilt all applied for or registered trademarks for items that range from clothing and jewelry to home goods.
"It's a big trend that we're seeing, and I think we will continue to see retailers sell more exclusive products," said general manager of Shop Style, Melissa Davis.
Experts say businesses make more money selling their own products. Now that the economy is improving, people are paying more for luxury goods, so there is less inventory for discount and sale sites.
"In tighter inventory times it gives them a chance to maybe sell a range of goods that's a little bit broader, and I think there's an opportunity to that potentially some of that product could be great product," said online retail expert Lauren Freedman.
In a review of the flash sale and discount sites, we found that Gilt filed the most trademarks.
"With six years of sales history we know exactly what our members are looking for, and our private label merchandise serves our more intent-based shoppers," Gilt said in a statement.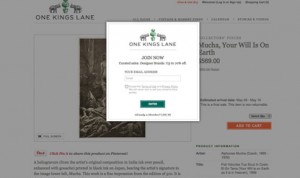 Those in the e-tail business say these sites closely watch what shoppers buy.
"From consumer trends they've known throughout the years what people are looking for, and what they're missing," Davis said.
But not all sites make it clear that they are the makers behind some of the products they sell. The original price next to the discount is what retailers value the item at. The item may have never been sold at full price, causing some to question their tactics and if they should be more upfront.
"I don't think it's necessary, but it certainly can't hurt and it makes it more transparent to the consumer and, you know any time you make something more transparent I think its positive for the shopper," Freedman said.
To make sure your online shopping experience is positive, experts say when ordering a new brand:
Research similar items for sale to make sure the one you want is competitive priced
Check out online reviews
Know the site's return policy, since some will only issue a store credit
Tusinski says now that she knows about this new private label trend, she's willing to give other items a try.
"It's just another designer out there. Somebody put their hard work into making this," she said.
Retail insiders point out that many department stores have been selling their own private labels for years, and sometimes those aren't advertised as store brands.