Debt Collectors Hound Millions Of Retired Americans
by Herb Weisbaum, NBCNews.com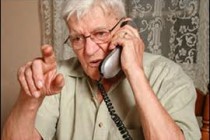 It may be hard to imagine Grandma unable to pay her bills or Grandpa being hounded by debt collectors. But for millions of Americans, this is the harsh reality of retirement.
Faced with a fixed income and constantly rising cost of living, many seniors now spend their "golden years" juggling bills and fending off debt collectors.
"If they get a phone call at 10 o'clock at night and the caller is harassing them for a debt, it can be very scary," said Amy Nofziger with the AARP Foundation. "We know that it causes a lot of stress for seniors because some of these debt collectors can use foul language and other forms of harassment to try to collect the debt."
Nofziger told NBC News that some people pay off debts just to stop the calls, even though they don't believe they truly owe the money.
The Consumer Financial Protection Bureau (CFPB) recently reported that for older Americans, debt collection is the top complaint. About one out of three complaints submitted to the agency by seniors is about debt collection. The major complaints include being hounded for medical debts currently in dispute, attempts to collect the debts of deceased family members from their relatives, and illegal threats to garnish Social Security and other federal benefits.
Continue reading on NBCNews.com » which also has related videos and resources
Tags: Privacy, Senior Issues