California should warn consumers about 'toxic' flame retardants
by The Editorial Board, The Sacramento Bee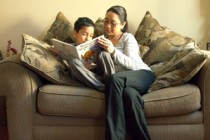 The American Chemistry Council and member companies that make flame retardants used in couch cushions have lobbied hard in capitols across the nation to protect their markets, despite studies that question the chemicals' safety and effectiveness.
So it is happening again this year.
Sen. Mark Leno, D-San Francisco, tried several times to win legislative approval of a ban on flame retardants, without success. Now, he is carrying a bill to require labels providing consumers with useful information stating whether furniture they buy contains flame retardants. Any smart consumer would want it.
The label, embodied in Senate Bill 1019, would be straightforward: "The upholstery materials in this product: Contain added flame retardant chemicals [or] Contain NO added flame retardant chemicals." There'd be a check mark by the appropriate statement.
There also would be this kicker:
"The State of California determined that the fire safety requirements for this product can be met without adding flame retardant chemicals. The state has identified many flame retardants as being known to, or strongly suspected of, adversely impacting human health or development."
In 1975, when Jerry Brown was governor the first time, California imposed regulations intended to prevent fires by requiring that furniture makers add flame retardant to cushions. That became the de facto national standard.
Since then, flame retardants have become an industry. Corporations make significant profit from them. The chemicals also escape from couch cushions, carpet pads and other furniture and get into the environment and our bodies.
Numerous studies buttress the warning in Leno's legislation. A study last year by the MIND Institute at UC Davis found one component of flame retardants accumulates in human blood, fat and breast milk.
The institute summarized the study by saying the "chemical, quite literally, reduces brain power." The findings "bolster the argument that genetics and environment can combine to increase the risk of autism and other neurological disorders."
In 2012, Brown set out to fix what his first administration had done by directing a unit that oversees home furnishings to alter the regulation in a way that would remove what Brown called "toxic" flame retardants.
"California women have much higher levels of toxic flame retardants in their breast tissue than women in other states and countries," Brown said in his statement calling for the review.
The unit – called the Bureau of Electronic and Appliance Repair, Home Furnishings and Thermal Insulation – last year altered the 1975 regulation, known as Technical Bulletin-117, in a way that allows furniture makers to meet safety requirements without adding the suspect fire retardants.
The new regulation doesn't ban the chemicals. Rather, it makes clear that alternatives are less toxic and fire-resistant.
Understandably, chemical company lobbyists are fighting the warning in Leno's bill. They must know that given the choice, Californians would not buy furniture that contains what the governor calls "toxic" flame retardants.
Earlier this month, Kaiser Permanente provided a boost to Leno's effort by becoming the first health care provider in the nation to announce it would stop purchasing furniture treated with flame retardants.
Kaiser Permanente spends roughly $30 million a year on chairs, benches, sofas and other furniture, the health organization said in its statement.
"Chemicals used as flame retardants have been linked to reproductive problems, developmental delays and cancer, among other health problems," Kaiser said. "Concern over the health impacts to children, pregnant women and the general public has been growing in recent years, as scientific studies have documented the dangers of exposure."
Leno is one the Legislature's more liberal members. But he is receiving some Republican support for his bill, a testament to his persistence and to the concept that is embodied by SB 1019. The decision about whether to buy furniture with questionable flame retardants is, after all, best left to markets and to consumers.
Tags: SB 1019