Engineer Calls Years Of PG&E Safety Cuts 'Near Criminal'
by Bob Egelko, San Francisco Chronicle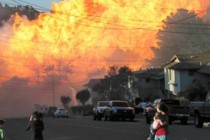 Jurors considering criminal pipeline-safety charges against Pacific Gas and Electric Co. got a look Friday at bitter messages between PG&E engineers six weeks after the deadly San Bruno explosion, with one saying continued cutbacks in safety-related spending were "the (near-criminal) fault" of the company's top brass since the 1980s.
California's largest utility is accused of violating federal laws by knowingly failing to inspect pipelines properly, test high-risk lines and maintain adequate records. It is also charged with obstructing the federal investigation of the September 2010 explosion and fire that killed eight people and destroyed 38 homes in San Bruno's Crestmoor neighborhood.
The crux of the prosecution is that PG&E, contrary to its stated policy, consistently sacrificed safety for profits. That seemed to be the conclusion of two engineers in an email exchange after the company's president, Chris Johns, talked with San Francisco employees in October 2010, six weeks to the day after the explosion.
Senior gas engineer William Manegold, called as a prosecution witness, said in one message that he had told Johns the firm "should spend more to replace" its old pipelines. But Manegold told his colleague he should have said much more to Johns: "Don't assume that the people working on this stuff now are a bunch of idiots that should be ignored (as it seems to me has been done)."
Continue reading on sfgate.com »
Tags: CPUC, PG&E, San Bruno Explosion