Facebook will offer anonymous log-ins for apps
by Benny Evangelista, San Francisco Chronicle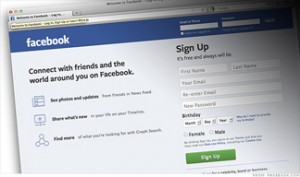 The social media giant that pioneered the concept of sharing too much now wants to protect your anonymity.
Facebook is testing a way for users to sign in to a mobile app without divulging their identity, a feature that could appeal to members worried about privacy. The Menlo Park company also unveiled an expanded mobile advertising platform at its F8 developers conference in San Francisco.
CEO Mark Zuckerberg devoted most of his keynote speech to the ways Facebook is helping mobile app developers make money. But the Anonymous Login feature signaled a sea change for a company that built a global network of 1.28 billion monthly active members by requiring them to use real names and prodding them to share as much of their lives as possible.
Zuckerberg said the feature lets Facebook members log in to new apps anonymously until they feel comfortable trusting the app makers with their personal data. Facebook will still transmit some form of unique identification to the app.
"This is going to let you try apps without fear," he said. "And if you want, you can always sign in with your real identity."
Facebook has created a log-in control system that gives users the ability to pick and chose from a list of personal information they want to share or keep private, such as e-mail and song lists. Last year, Facebook members used their log-ins to sign in to apps more than 10 billion times.
'More control'
"People want more control over how they share their information, especially over apps," Zuckerberg said.
The company is testing Anonymous Login with a few developers and plans to offer it to a wider group in a few months. Much of the feature is still unclear, including whether a user can constantly switch from public to anonymous as they can with Google's Incognito browsing tab, said analyst Brian Blau of Gartner Research.
"We'll have to wait and see what it turns into, but essentially it's going to mean users can log in to apps and not have to reveal their identity," said Blau, who was in the audience of about 2,500 people. "That's pretty interesting, because it's the first time they've really done anything with anonymity."
At the same time, the new Facebook Audience Network for mobile app advertisers still depends on Facebook mining specific information about its users to send them more relevant – and supposedly less intrusive – ads.
Much of the company's revenue and profit depends on the growth of mobile advertising. For the quarter that ended March 31, Facebook generated profit of $642 million, up 193 percent from the first quarter last year. Revenue was $2.5 billion, up 72 percent from the year before. The majority of revenue came from an 82 percent increase in ad sales, which totaled $2.27 billion, Facebook's strongest quarterly performance in nearly three years.
The Facebook Audience Network extends advertising campaigns beyond just the social network to encompass outside mobile apps.
For example, Target has been looking for a way to find customers who used the retail chain's mobile app and wanted to see the movie "Frozen." Through a test with the Audience Network, Target found those customers through apps from the Huffington Post and others.
Blau said the Audience Network is a "significant" addition to Facebook's mobile ad offerings, which already generate about 60 percent of the company's revenue. Facebook shares rose nearly 3 percent, or $1.63, to close Wednesday at $59.78.
"It's going to mean that they're going to compete head-to-head against Google in the mobile ad space, and because of Facebook's reach and targeting capabilities, I think they're going to be a force to be reckoned with," he said. "It's a true mobile ad network outside of Facebook's properties. They haven't done that before at the scale they're doing now."
Facebook also announced App Links, a way for app developers to create links within their own products that take users to similar or even competing apps and websites.
Innovation Lab
In the Innovation Lab area, developers could see how apps perform under less-than-ideal wireless conditions, such as developing countries like Indonesia and Kenya. The lab was a demonstration of a facility that Facebook, mobile-device maker Ericsson and several corporate partners plan to open this summer at Facebook's Menlo Park headquarters as part of Internet.org, an organization that wants to bring Internet access to unconnected parts of the world.
Zuckerberg promised developers that Facebook will give them a more stable mobile platform for their apps. He also spoke in general philosophical terms about what he expects Facebook to do over the next decade. Zuckerberg suggested that the company he started in a Harvard University dorm room might branch away from its hacker mentality of "moving fast and breaking things."
"To reach the next level and to fully achieve this mission of connecting everyone in the world, my goal for our culture over the next 10 years is to build a culture of loving the people that we serve that is as strong, if not stronger, than our culture of hacking at Facebook," he said. "We want to make sure that we put people first in all of the different experiences that we offer."
This was the first F8 event since 2011, but Zuckerberg said Facebook plans yearly conferences. The next one will be in March at Fort Mason Center in San Francisco.