FCC Proposes Expanding 'Obamaphone' To Internet
by Tom Risen, U.S. News & World Report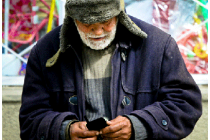 The Federal Communications Commission will vote at the end of the month on whether to expand a Reagan-era phone subsidy to cover internet access for low-income Americans, fanning the flames of a partisan debate about the promise of a tech savvy populace versus the threat of wasteful welfare spending.
FCC Chairman Tom Wheeler on Tuesday explained his proposal to expand the Lifeline program aims to assist some of the 64 million Americans who have difficulty affording Internet access at home.
"We can recite statistics all we want, but we must never lose sight of the fact that what we're really talking about is people – unemployed workers who miss out on jobs that are only listed online, students who go to fast-food restaurants to use the Wi-Fi hotspots to do homework, veterans who are unable to apply for their hard-earned benefits, seniors who can't look up health information when they get sick," he wrote in a blog post co-authored with Commissioner Mignon Clyburn.
"Of the low income consumers who have subscribed to mobile broadband, 44 percent have to had cancel or suspend their service due to financial constraints and for those whose only access to the Internet is their smart phone, 48 percent have had to cancel or shut off service for a period of time due to financial hardship," Wheeler wrote.
Continue reading on the U.S. News & World Report website »