Former Corinthian College Students Sue To Have Private Loans Discharged
by Ashlee Kieler, Consumerist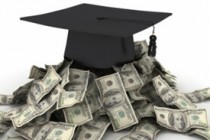 As the Department of Education is working to wipe away millions of dollars in federal loans owed by former students of now-defunct Corinthian College Inc. schools, some former students continue to receive monthly bills for private loans they took out in order to attend the for-profit colleges. Now one former Corinthian student has filed a federal class action against the financial firms that currently hold the private student loans.
The lawsuit, filed in Los Angeles, against Turnstile Capital Management, LLC, Balboa Student Loan Trust, and University Accounting Service, LLC seeks to provide California students defrauded by the for-profit college chain with full debt relief.
According to the lawsuit, Turnstile, Balboa, and UAS violated federal and state laws by purchasing CCI's so-called "Genesis" loans and trying to collect on them despite knowing that the loans were allegedly obtained through fraudulent and deceptive means.
The suit claims that the companies knew at the time they purchased the loans that Corinthian had been accused of engaging in a slew of misleading and deceptive tactics to enrolls students, and, in turn, pressure the to take out the costly loans.
The loans were part of CCI's in-house private lending program called Genesis.
Through the Genesis program, private lenders provided student loans to Corinthian students according to Corinthian's terms but without revealing to students the lenders' connections to Corinthian.
Continue reading on Consumerist's website » where you'll also find a link to the lawsuit
Tags: Class, Class Action, Deceptive, For-Profit Colleges, Student Loans