Funds For Safety Went To Utility Execs' Pay Instead, PUC President Says
by Marc Lifsher, Los Angeles Times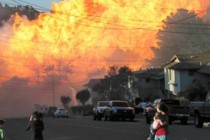 Money collected from ratepayers and earmarked for pipeline safety was instead spent on executive pay raises by the state's largest utility, Pacific Gas & Electric Co., in the months before a deadly pipeline explosion in 2010, lawmakers were told Wednesday.
"In some cases, the utility did divert dollars we approved for safety purposes for executive compensation," the new president of the Public Utilities Commission complained to members of the state Senate Energy, Utilities and Communications Committee at an oversight hearing.
After the two-hour hearing, Michael Picker told The Times that he's gathering additional documentation that PG&E put off safety and maintenance work to boost its profits and provide top executives with bonuses.
"This is one of my outstanding beefs," he said.
The issue of the bonuses first was raised in a January 2012 independent audit for the PUC and an accompanying commission staff report.
But Picker's testimony "was the first time that I ever heard a PUC official admit that or state that as a fact," said state Sen. Jerry Hill (D-San Mateo). Hill represents the Bay Area community of San Bruno, where the PG&E pipeline blast killed eight people, injured 66 others and destroyed 38 homes.
Records released a few days after the explosion showed that PG&E received approval in 2007 to spend $5 million of ratepayer money to replace a high-risk section of the 30-inch pipeline north of the San Bruno blast site.
The work on the 1950s-era pipe was never performed. And in 2010, the utility asked for another $5 million to do the same job, according to PG&E documents submitted to the PUC.
Continue reading on the Los Angeles Times website » The Times limits free pageviews per month
Tags: CPUC, PG&E, San Bruno Explosion