Hazardous lead paint: Legal battle comes to trial in California
by Howard Mintz, San Jose Mercury News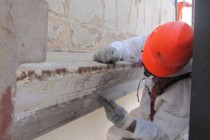 From old cottages in Berkeley and Palo Alto to ranch-style homes in Silicon Valley, the remnants of a hazardous past can lurk in the walls — lead paint.
And now 10 California cities will finally get to try to make the powerful paint industry pay dearly to remove those poisonous ghosts from millions of homes around the state.
In a trial set to begin Monday in Santa Clara County Superior Court, a 13-year, billion-dollar legal battle will move forward over the paint industry's role in spreading lead-based paint throughout California's residential landscape.
And the industry will fight back hard, arguing that it never deliberately sold a hazardous product and that lead paint is no longer a significant public health threat in California.
But decades after the government banned lead paint because of its health threat to children, the substance remains in many homes built before 1978, particularly in older, low-income neighborhoods where families are considered less likely to be aware of the threat. Lead paint has been linked to a host of maladies in children, from learning disabilities and stunted growth to seizures and even death.
"Lead poisoning has been the longest-running epidemic in American pediatric history, and is a silent, ongoing tragedy," David Rosner, a Columbia University professor who will be an expert witness for the governments, said in an email exchange.
Led by Santa Clara County, local governments sued the industry in 2000, alleging paint manufacturers knew of the dangers of lead paint as early as the late 1890s and yet peddled it to consumers without warning for decades. Alameda, Monterey, San Mateo and San Francisco counties are among the players in the case, as well as the cities of Oakland and San Diego and large counties such as Los Angeles.
Public officials will urge Superior Court Judge James Kleinberg, who is hearing the case without a jury, to find five paint manufacturers, including Atlantic Richfield, NL Industries and Sherwin-Williams, liable and order them to remove lead paint from an estimated 5 million homes in the 10 counties — at a cost of about $1 billion.
"It's all about fixing the problem," said Joseph Cotchett, a prominent Burlingame lawyer representing the counties.
Unlike cases involving individuals who sue over health hazards, which can be difficult to prove against an entire industry, California officials have alleged the paint makers violated the state's public nuisance laws. Lead paint, they argue, has created "a substantial and unreasonable injury" to anyone exposed in an older home.
The case has dragged on for years, twice bouncing up through the appeals courts, which have allowed it go forward over the paint manufacturers' objections.
"The other side has fought tooth and nail for 13 years to try to squash our case," said Danny Chou, a deputy county counsel for Santa Clara County.
Lawyers for the industry say they've been unfairly targeted. In legal briefs, they argue that public health officials have successfully handled any hazards from lead paint, calling it a "public health success story."
Among other arguments, they say recent studies found scant evidence of California children facing health problems from elevated lead levels in their blood, and, when lead is found, little proof it necessarily comes from lead paint. And they say a costly cleanup would do more harm than good, kicking up lead dust in homes where it would be better left alone.
"I find this litigation-by-hindsight puzzling," said former Iowa Attorney General Bonnie Campbell, who is helping the industry's defense. "The fact is, you have a very good, successful public health story, and there is no public nuisance."
The industry has fared well in fending off similar lawsuits around the country, prevailing in legal battles in states such as Rhode Island, Ohio and Missouri.
But legal experts say the California case, with strong backing from a host of public officials, could be an effective use of public nuisance laws.
"There is a certain gravitas government sometimes brings to these cases," said Richard Frank, head of the California Law and Policy Center at UC Davis.
Rebutting the industry's claims, public officials say thousands of children in the 10 counties each year are found to have unsafe levels of lead in their blood. And they point to recent findings from the federal Centers for Disease Control that lead paint is the primary cause of elevated lead levels in children who live in older homes.
Under the judge's pretrial rulings, government lawyers will not have to show that lead paint actually harmed any particular families. Instead, Kleinberg wrote, they must "provide a reasonable basis" that the industry "assisted in the creation of a public nuisance" through activity, such as promoting the product, that put lead paint in homes "affecting a considerable number of persons."
Local public health officials in places such as Alameda County, which has a lead prevention program, say the problem persists and is far from cured.
"We've had a lot of success," said Julie Twichell, an official with Alameda County's lead poison prevention program. "But there is still a lot of work to do."