How Apple Ended Up In The Government's Encryption Crosshairs
by Brandon Bailey and Michael Liedtke, The Associated Press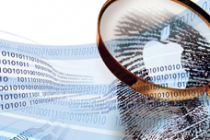 As the maker of trend-setting gadgets like the iPhone and iPad, Apple has changed the way people use technology in their daily lives. Now, after positioning itself as a champion of privacy, the tech giant has sparked a potentially momentous conflict with the federal government over encryption.
For months, Apple CEO Tim Cook has engaged in a sharp, public debate with government officials over his company's decision to shield the data of iPhone users with strong encryption — essentially locking up people's photos, text messages and other data so securely that even Apple can't get at it. Law-enforcement officials from FBI Director James Comey on down have complained that terrorists and criminals may use that encryption as a shield.
Then on Wednesday, Apple found itself in the government's crosshairs over an iPhone used by one of the San Bernardino mass shooters. A federal magistrate ordered Apple to produce software that would help federal investigators hack into that phone — not by breaking the encryption directly, but by disabling other security measures that prevent attempts to guess the phone's passcode.
Apple has five days to challenge that order, setting the stage for a legal clash that experts say could change the relationship between tech companies and government authorities in the U.S. and around the world.
Continue reading on AP's website »
Tags: Apple, National Security, Privacy, Smartphones