Legislature puts California acupuncture board on notice
by Daniel Rothberg, The Sacramento Bee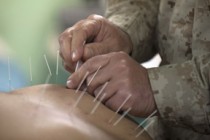 The state board tasked with licensing and regulating California's roughly 11,000 acupuncturists has faced trouble before – a cheating and bribery scandal rocked the board in 1989.
Now, amid criticism that the California Acupuncture Board's priorities give short shrift to consumer protection, state lawmakers are moving for an overhaul and lobbing a pointed message at its executive officer to get in line.
With the board's authority set to expire Jan. 1, the Senate Business, Professions and Economic Development Committee has a bill to extend that date, with strings attached. Senate Bill 1246 narrows the board's regulatory portfolio, offers a shorter-than-usual extension and includes a provision that could threaten the tenure of Executive Officer Terri Thorfinnson.
Specifically, the bill says "the executive officer appointed on or after January 1, 2015, shall not have served as the executive officer of the board at any time prior to January 1, 2015."
Interpretations of the section vary. A Senate committee consultant, Le Ondra Clark, said the wording would not require the board to fire Thorfinnson, but would prohibit her reappointment after Jan. 1 should the board appoint a new executive officer. Thorfinnson said in her analysis for the board that the provision "effectively terminates" her tenure.
"I've not ever seen them do this before," Julie D'Angelo Fellmeth, who monitors state consumer boards and is administrative director of University of San Diego's Center for Public Interest Law, said of the Legislature's approach. "They might just be sending a message to the board that the Legislature is not happy with the performance of the executive officer."
Sen. Ted Lieu, the Torrance Democrat who chairs the committee and is carrying the bill to overhaul the board, is running for Congress and refused requests to comment.
California has been regulating what is sometimes called "oriental medicine" since 1972, and is now home to a third of the nation's licensed acupuncturists, according to a board presentation in December. After the Legislature's sunset review process went dormant in the mid-2000s, the board went without a rigorous evaluation until 2012. At that point, the legislative committee said most of the issues it identified were ones that the Legislature had "struggled with for almost 14 years." The former executive officer resigned in June 2012.
"This board has been mired in controversy for years," Fellmeth said. Most notably, the board was thrust into the center of a 1989 bribery scandal in which a board member was sentenced to five years in prison for taking roughly $500,000 in bribes for licensing exam answers.
The provision apparently aimed at Thorfinnson comes as legislative committees are showing little patience for a board they fault for spending too much time approving acupuncture schools at the expense of neglecting basic enforcement and consumer protection duties.
The board, for instance, currently signs off on in-state and out-of-state schools for California acupuncturists, a process that can include labor-intensive site visits. Clark said such activity distracts from protecting the public.
"When the Legislature looks at the history of this board and we look at your mandated basic duties, we feel that you all have unfortunately had some trouble in the areas of enforcement, consumer protection, et cetera," Clark told the seven-member board at a June 13 meeting. "So though we would like to have control over everything and go on site visits … if you're not meeting your basic duties, none of that matters."
In preparation for the board's sunset review hearing in March, the committee outlined 13 issues in a background paper and identified three primary concerns:
• The board has not implemented consumer protections, including a 1999 law that requires practitioners to inform patients that they are licensed.
• The board does not provide an option to accept national exam scores to get a license. California is the only state to require applicants to take its licensing exam, which is costly and has been criticized for producing "abnormally low" test scores.
• Instead of using a national accrediting agency to approve schools, the board does the work itself, which requires a "significant amount of resources."
SB 1246 addresses at least one issue identified in the committee's review: national accreditation. The measure would still allow the board to approve a program's curriculum, but would give a national accrediting agency the responsibility of school visits.
Opponents, including several board members, remain concerned that it would minimize the board's voice and weaken California's training requirements. At a June 27 meeting, the board voted 4-2 in support of keeping its authority to conduct site visits.
Lixin Huang, president of the Council of Colleges of Acupuncture and Oriental Medicine, said many practitioners do not trust accrediting firms because they came from countries with strong governments, such as China.
"Therefore, they only trust government agencies," said Huang, whose organization represents 53 schools in at least 20 states.
Of the 35 schools the board has approved for California practitioners, only five are not nationally accredited, according to the legislative report. Some schools are already in the process of applying for accreditation, which has benefits such as government financial aid.
The report notes that most members of the board – five of six – have served about one year and that Thorfinnson began her tenure in 2012, taking on a program that was already on shaky ground, "with little to no infrastructure and no institutional knowledge."
The board chairman would not comment, but the board responded to the committee's background paper, noting that it has been understaffed in past years but has made progress in implementing consumer protections. The board also said it plans to conduct an audit of the national licensing exam next year.
Clark acknowledged the board is making progress, but because of the ongoing concerns, she said the bill would renew the board for only two years, rather than grant a customary four-year extension.
Given the board's troubled past, Michelle Lau, president of the Council of Acupuncture and Oriental Medicine Associations and a frequent commenter during board meetings, said it is unfair for the Legislature to punish the current panel.
"Now we have a better board. We have better members," Lau said in an interview. "Why don't we give them some more time?"
Board members have direct authority to remove an executive officer, and the current board gave Thorfinnson a positive review in February and voted to retain her at its most recent meeting.
But the governor, responsible for appointing five of the seven members to the board, could also play a role in shaking up the board. Governors, Fellmeth said, often offer board positions to appointees who will vote against an executive officer.
Under Gov. Pete Wilson, Fellmeth said, several executives left their positions once his administration had a quorum of appointees on each board.
"They wanted board members and executive officers who understood the role of these boards is public protection, not protection of the trade or profession they are regulating," she said.
There is one vacant seat on the California Acupuncture Board, and Gov. Jerry Brown's office is aware of the opening.
"As is the case with all of the vacancies we fill, our focus is appointing the best possible candidate," Evan Westrup, a spokesman for Brown, wrote in an email. "That ultimately dictates our timing."
Photo: U.S. Navy / Flickr