Los Angeles City Attorney Alleges The Weather Channel App Mines Users' Private Data
by Los Angeles City Attorney, Press Office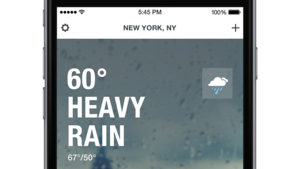 City Attorney Mike Feuer today announced that his office has filed suit against TWC Product and Technology, LLC (TWC), the operator of the Weather Channel smart phone App, for allegedly covertly mining the private data of users and selling the information to third parties, including advertisers.
"If the cost of a weather forecast will be the sacrifice of deeply private information–like precisely where we are, day and night–it must be clear, in advance," said Feuer. "But we allege TWC elevates corporate profits over users' privacy, misleading them into allowing their movements to be tracked, 24/7. We're acting to stop this alleged deceit."
"This case goes to the core of one of today's most fundamental issues," Feuer added. "How do we maintain our privacy in the digital age? We believe Americans must have the facts before giving away our most personal information."
The Weather Channel App is a mobile phone application that provides users with real-time weather information, weather forecasts, and other information. It was the most downloaded weather application from 2014 to 2017.
The complaint alleges that TWC used the geolocation tracking technology present in the app to monitor where users live, work, and visit, twenty-four hours a day, as well as how much time users spend at each location. The complaint further alleges that TWC led its users to believe that their location data would only be used to provide them with "personalized local weather data, alerts and forecasts." Instead, TWC allegedly sends this information to affiliates of its parent company, IBM, and other third parties for advertising and other commercial purposes entirely unrelated to the weather. Users' location data could be used to determine users' daily habits, consumer preferences and identities. This information is allegedly used for targeted advertisements by at least a dozen third party websites over the past 19 months based on locations users frequent, and has been by hedge funds interested in analyzing consumer behavior.
TWC allegedly intentionally obscures information regarding its uses of geolocation data within its 10,000 word Privacy Policy. Because of this, TWC allegedly is able to convince approximately 80% of the Weather Channel App's users to grant access to geolocation data. TWC allegedly collects more than one billion pieces of location data per week based on user locations.
The lawsuit seeks an injunction prohibiting TWC from continuing to engage in allegedly unfair and fraudulent business activities, including deceptively collecting and selling personal data, as well as Civil Penalties up to $2,500 for each violation.
Feuer's was the first public office to pursue Wells Fargo over the fake accounts scandal, and maintains a vigorous practice to protect consumers.
Deputy City Attorney Adam Teitelbaum is handling the litigation. Read the complaint here.