Lumber Liquidators Sued Over Formaldehyde Allegations
by Chris Morran, Consumerist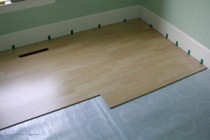 Only days after a 60 Minutes report on the allegedly high formaldehyde levels in wood products sold by Lumber Liquidators, consumers have filed a potential class action against the company in federal court.
The complaint [PDF], filed today in a U.S. District Court in California, alleges that Lumber Liquidators violated federal and state laws by selling Chinese-manufactured laminated wood products containing formaldehyde at "levels known to pose serious health risks" and in excess of California limits.
The plaintiffs, a family from Santa Clarita, CA, who purchased flooring from Lumber Liquidators, acknowledge that formaldehyde can be safely used in the manufacture of laminated wood flooring, but only if used sparingly so that the chemical dissipates quickly.
But if an excess of formaldehyde is used, it can remain in the laminated wood and gradually be emitted over time. Prolonged, continued exposure to formaldehyde has been linked to numerous health problems ranging from nausea to increased cancer risk.
As shown in the 60 Minutes story, testing on the laminated wood Lumber Liquidated sourced from suppliers in China allegedly contained more formaldehyde than its domestically sourced laminates and similar products sold by competitors.
"Despite this discrepancy, Lumber Liquidators did not differentiate between its domestically manufactured floor laminates and those made in China," reads the complaint, which points out that the company's Chinese wood products were even labeled to indicate that they complied with the California Air Resources Board's (CARB's) strict formaldehyde emission standards.
Continue reading on Consumerist.com »
Tags: Class Action, Consumer Legal Remedies Act, Medical Issues