NHTSA launches online search tool so consumers can find out for themselves if a vehicle has been recalled
by Ashlee Kieler, Consumerist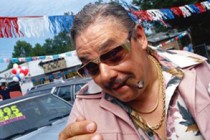 With more than 46 million vehicles having been recalled so far this year, the thought of accidentally purchasing a used car with safety defects might be a bit nerve-wracking for consumers. A new online search tool from the National Highway Traffic Safety Administration aims to take the worry and guess-work out of whether or not a used car has been recalled and fixed.
Late Tuesday NHTSA launched an online search tool that allows consumers to easily check the recall status of their vehicle or motorcycle, the Chicago Tribune reports.
Under the new mandate, NHTSA requires car and motorcycle manufacturers to provide at least 15 years of data and update their information every seven days. Additionally, manufacturers will be required to have a place on their websites where consumers can search for recalls using their vehicle identification numbers (VIN).
Officials with NHTSA say in a news release that they hope the new tool provides drivers with "peace of mind knowing that the vehicle they own, or that they are thinking of buying or renting, is free of safety defects."
To use the new search tool, consumers must input the vehicle's 17-digit VIN, which can usually be found in the left corner where the dashboard meets the windshield or on insurance and registration documents. Results will then appear if the consumer has an open recall on their vehicle, and if there are none, owners will see "No Open Recalls."
The database will only provide information on the vehicle's safety status and won't publish personal information or track who checked the recall status of the vehicle, officials with NHTSA say.
With new recalls being announced almost daily, knowing the status of a vehicle is more important than ever, especially since some drivers are feeling "recall fatigue" and may tune out just which cars have issues.
Additionally, drivers suffering recall fatigue are more likely to put off fixing recalled vehicles, an issue that could be dangerous for drivers and passengers. In fact, NHTSA reports that about 25% of recalled autos still need repairs 18 months after the recall was first issued.
While the tool will likely provide valuable information for prospective buyers and current vehicle owners, some consumer advocates say the system doesn't address all recall-related issues.
Rosemary Shahan, president of Consumers for Auto Reliability and Safety, tells the Tribune that while she would encourage consumers to use the tool before purchasing the vehicle, not all consumers will be able to do so.
The system is only in English and only available online, meaning that consumers who speak different languages or don't have access to a computer or smartphone won't be able to research vehicles.
"When you look at the used car market, it is all colors and flavors of people," Shahan tells the Tribune. "There are many millions who are buying cars to get to work, to get their kids to school and who won't know to look or will find the information isn't in their language."
The new search tool also isn't enough to protect consumers from possibly deceptive used car marketing practices.
See, while it's illegal for consumers to sell many recalled products like microwaves and blenders, there isn't a similar law for recalled vehicles. In fact, the National Highway Traffic Safety Administration lacks the authority to actually force people people to fix recalled vehicles before they are sold or rented.
That issue led a number of consumer groups to send a petition to the Federal Trade Commission concerning CarMax, one of the largest used car sellers. They allege that while CarMax touts its quality control measures in advertising, the company continues to sell recalled vehicles that haven't been repaired — often without the buyer's knowledge.
The petitioners have asked the FTC to look through the millions of cars already sold by CarMax to determine how many recalled vehicles were sold, then notify the owners of those vehicles that they purchased cars with unresolved recall issues.
In a statement to the Tribune, CarMax officials say the new NHTSA tool is "a means for consumers to be better informed on all recalls. CarMax is evaluating this website to see how it may be useful within our processes."
While the new online search tool may give consumers the power to research their vehicle before purchasing, if dealers continue to boast "125+ point inspections," and other quality measures, consumers likely won't feel the need to do their own homework when it comes to recalls.
Tags: Consumers For Auto Reliability and Safety, NHTSA, Recalled Cars