PG&E Convicted Of Obstructing Blast Probe, Breaking Safety Laws
by Bob Egelko, San Francisco Chronicle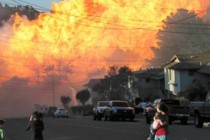 Nearly six years after a defective gas pipeline exploded in San Bruno, killing eight people and destroying 38 homes, a federal court jury convicted Pacific Gas and Electric Co. on Tuesday of obstructing the federal probe of the blast and of violating pipeline-safety laws both before and after the disaster.
The jury found PG&E guilty of five felony counts of knowingly failing to inspect and test its gas lines for potential dangers, in addition to the felony obstruction count. The jury acquitted the company of six other pipeline safety violations.
The explosion, early in the evening of Sept. 9, 2010, sent flames 1,000 feet into the air and devastated San Bruno's Crestmoor neighborhood. In addition to the dead, 58 people were seriously injured.
The cause was a defective seam weld in a 30-inch transmission pipeline from the 1950s that PG&E charts had labeled seamless.
The state Public Utilities Commission fined the company a record $1.6 billion for the explosion. Prosecutors in the criminal case initially sought a fine of up to $562 million, which they said was twice the amount PG&E saved by illegally cutting safety programs. But after U.S. District Judge Thelton Henderson ruled that prosecutors could not use new state safety standards to prove illegal cost-cutting, they backed off from the higher penalties and instead seek standard fines of up to $500,000 for each conviction.
That means the maximum the company could be fined for the convictions Tuesday is $3 million.
Continue reading on sfgate.com »
Tags: CPUC, PG&E, San Bruno Explosion