PG&E Faces $1.4 Billion in Penalties for San Bruno Blast
by Jaxon Van Derbeken, San Francisco Chronicle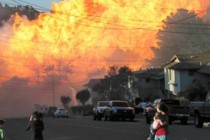 Pacific Gas and Electric Co. must pay a record $1.4 billion in fines and other penalties for more than 3,700 violations of pipeline safety laws leading up to the deadly San Bruno natural-gas explosion, two administrative law judges said Tuesday.
The California Public Utilities Commission judges levied a $950 million fine against PG&E for keeping shoddy pipeline records, violating safety rules and failing to make legally required gas-system adjustments before the September 2010 blast that killed eight people and destroyed 38 homes.
They also ordered the company to refund $400 million it received from customers but failed to spend on safety improvements in the decade before the blast. PG&E must also pay $50 million in other costs, including an audit of changes it has made to its gas lines since the disaster, the judges said.
"The penalties adopted in today's decision send a strong message to PG&E, and all other pipeline operators, that they must comply with mandated federal and state pipeline safety requirements or face severe consequences," said Judges Amy Yip-Kikugawa and Mark Wetzell.
They said they wanted to put utilities on notice that breaking the law "will result in a fine that is not simply a 'cost of doing business.' "
$2 billion cost
Combined with $635 million in pipeline upgrades that PG&E has already been ordered to absorb, the company's total cost of San Bruno penalties and improvements will top $2 billion, commission officials said in a statement. In addition, PG&E has paid $500 million in lawsuit settlements with blast victims and their survivors, and faces a potential $1.13 billion fine in a criminal case brought by federal prosecutors.
The state-ordered penalties would be paid by PG&E's shareholders, not the company's customers. However, customers are still liable for covering $1 billion in safety upgrades that PG&E has agreed to make but were not covered by Tuesday's ruling.
PG&E had hoped to escape a state fine altogether and have the pipeline improvements alone serve as its penalty. The judges dismissed that idea, even though it would benefit customers by transferring some of the $1 billion in safety upgrades to the company.
"PG&E's proposal that all penalties be used/invested in pipeline safety, while creating a windfall for ratepayers, would not effectively deter it from committing further violations," the judges said. "Indeed, such an outcome would not even be considered an appropriate penalty, since PG&E has always been required to invest in pipeline safety."
The judges' ruling is final unless one of the parties in the San Bruno case or one of the utilities commission's five members challenges it within 30 days. If that happens, the matter would go before the full commission, whose members are appointed by the governor.
No word on appeal
PG&E officials issued a statement that did not say whether they would appeal.
"We are accountable and fully accept that a penalty is appropriate," the statement said. "We have respectfully asked that the commission ensure that the penalty is reasonable and proportionate and takes into consideration the company's investments and actions to promote safety. Moreover, we believe any penalty should directly benefit public safety."
San Bruno Mayor Jim Ruane said he was concerned that the judges hadn't ordered PG&E to spend more on safety improvements, and that the penalty may be disproportionately weighted toward fines.
"There is an extraordinary amount in the fine that does not go directly into safety of the pipelines in the ground," Ruane said, "and that's unfortunate."
He said the city is "extremely disappointed" that the nearly $1 billion fine amounts to a "payday" for Gov. Jerry Brown and the state's general fund. "We can't see the benefit of putting this money in the general fund and not on public safety," he said.
City officials also were disappointed that the judges did not impose an outside safety monitor on PG&E, Ruane said.
City Manager Connie Jackson said it was "way too soon" to tell whether the city would appeal.
Mark Toney, executive director of The Utility Reform Network, said the consumer-advocate group agreed with city officials that more money should go into pipeline improvements.
"We want to see a lot more to rate relief and fixing the pipes," Toney said. "The bottom line is ratepayers shouldn't be left holding the bag."
Soon after issuing the decision, the judges put out a separate ruling that rejected San Bruno's motion to remove utilities commission President Michael Peevey from the case, on the grounds that e-mails between him and PG&E officials showed he was biased toward the utility.
Probes blame PG&E
Investigations by the National Transportation Safety Board and a blue-ribbon panel appointed by the utilities commission have said PG&E failed to adequately test and maintain its system of more than 1,100 miles of urban gas-transmission lines before the San Bruno explosion. The blast happened when a seam weld that PG&E didn't know existed ruptured on a 30-inch transmission line.
Since the disaster, company executives say, PG&E has beefed up its pipeline replacement and testing programs and improved its emergency response system.
The penalty announced Tuesday would far exceed the utilities commission's highest-ever for gas-related violations, a $38 million fine against PG&E for a December 2008 explosion that killed a homeowner in Rancho Cordova (Sacramento County). It would also be the biggest fine ever against a U.S. utility for a gas blast, topping the $101.5 million penalty against El Paso Natural Gas for an August 2000 explosion that killed a dozen campers in Carlsbad, N.M.
Two main areas
The PG&E case was divided into two main areas, in which the judges concluded that the company committed a total of 3,708 pipeline safety violations.
Yip-Kikugawa found that PG&E had routinely made flawed assumptions about its pipelines and had known its records were in disarray. She also found the utility had consistently failed to lower pipeline pressures around newly developed areas, as required by law.
Wetzell oversaw allegations stemming from the blast itself. He found PG&E had failed to properly test many of its at-risk pipelines, including the one that ruptured in San Bruno. The company relied on an inspection method for most pipelines that was incapable of detecting flawed welds, Wetzell found.
Working off incorrect records, PG&E concluded that the pipeline installed in San Bruno's Crestmoor neighborhood in the 1950s had no seam welds. The line finally ruptured at a cobbled-together assortment of short pipes, many with flawed seam welds.
In demanding that PG&E return $400 million in safety-improvement money, the judges concluded that the sum approximated the amount that the company hoarded in the 11 years before the San Bruno disaster, "straying from its obligations." The judges ordered the money refunded within 45 days of their decision being made final.
Finances in good shape
The judges concluded that "there appears to be confidence" among financial experts that PG&E will not only survive the fine and other penalties, but that its stock price might even go up when the matter is over.
In fact, the company stock rose 1.74 percent Tuesday, closing at $47.29 – near its peak this year.
"From a shareholder viewpoint, having any sign that we may be getting to the end of this four-year process is a good thing," said Kit Konolige, a utilities analyst with BGC Partners. "Having all this uncertainty has made it very difficult for people to feel comfortable investing in the stock."
Chronicle staff writer David R. Baker contributed to this report.
Tags: CPUC, PG&E, San Bruno Explosion