PG&E, In Deal With Consumer Groups, Asks For Smaller Rate Hikes
by David R. Baker, San Francisco Chronicle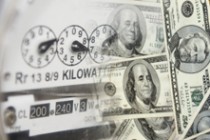 For Pacific Gas and Electric Co. customers, it's a rare break.
PG&E has reached an agreement with consumer groups to request smaller rate increases over the next three years than the utility originally wanted.
If state regulators approve, PG&E's average monthly bill for residential customers will rise 50 cents in 2017. The utility initially proposed a monthly increase of $4.
PG&E, California's largest utility, has won a series of rate hikes from regulators concerned that the company needs to upgrade its vast networks for distributing electricity and natural gas, particularly after the deadly 2010 explosion of gas pipeline beneath San Bruno.
In June, for example, the California Public Utilities Commission agreed to raise by 85 percent the amount of money PG&E collects from its customers to spend on its gas pipelines. Those increases will be phased in through 2018.
Consumer advocates ripped that decision, saying PG&E customers shouldn't be forced to pay for fixing years of poor pipeline maintenance. But some of those same advocates — including The Utility Reform Network, a frequent PG&E critic — have signed on to the new agreement.
"Our main goal was to prevent another big rate increase, on top of increases already approved," said Mark Toney, executive director of TURN. "The agreement does that."
Continue reading on sfgate.com »
Tags: CPUC, PG&E, The Utility Reform Network