PG&E Lacks Documentation To Prove Pipelines Are Safe, Panel Says
by Jaxon Van Derbeken, San Francisco Chronicle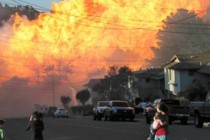 Pacific Gas and Electric Co. has vouched for the safety of 1,000 miles of high-pressure gas pipeline since the 2010 San Bruno explosion even though it lacks the records required by federal regulations to do so, the watchdog arm of the state Public Utilities Commission alleged.
In a regulatory filing Wednesday, the Office of Ratepayer Advocates urges the commission to fine PG&E $163 million or more for what it calls the utility's "intentional misrepresentations" to state regulators related to pipeline safety over at least three years.
The company, in a statement, said it runs its system "in accordance with the federal and state safety regulations" as well as commission regulatory decisions.
"We have plans to pressure test every mile of our gas transmission system that have previously not been tested and that's consistent with our aggressive strength-testing program," PG&E's Greg Snapper said in an e-mail, adding that the company is working with regulators to answer their questions.
The ratepayer agency's filing came after the PUC's Safety and Enforcement Division last month ordered PG&E to rectify "errors" in mandated annual safety reports the company has submitted since the Sept. 9, 2010, explosion that killed eight people and destroyed 38 homes of San Bruno's Crestmoor neighborhood.
Continue reading on sfgate.com » where, in a 3:30 video, reporter Jaxon Van Derbeken breaks down the factors that led to the PG&E gas line explosion in San Bruno that  killed 8 and left dozens homeless.
Tags: CPUC, PG&E, San Bruno Explosion