PG&E Management Allegedly Ordered Papers Destroyed After Blast
by Jaxon Van Derbeken, San Francisco Chronicle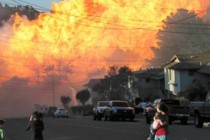 A former Pacific Gas and Electric Co. official hired after the San Bruno gas-pipeline explosion to clean up the company's records said management ordered her to destroy documents, and that she found a telltale preblast analysis of the pipe in the garbage, according to a federal court filing.
Prosecutors say they intend to use Leslie Banach McNiece's testimony during a trial of PG&E on a dozen counts of pipeline safety violations and one count of obstructing the federal investigation into the September 2010 blast, which killed eight people and destroyed 38 homes.
PG&E's record keeping is at the heart of the case, which is scheduled to go to trial in March in U.S. District Court in San Francisco. Prosecutors with the U.S. attorney's office allege that the company relied on records that executives knew were suspect to vouch to government regulators before 2010 that the San Bruno transmission pipe and other gas lines were safe.
Prosecutors will seek a penalty of as much as $500 million against the firm. No current or former PG&E executives are facing charges.
Continue reading on sfgate.com »
Tags: CPUC, PG&E, San Bruno Explosion