PG&E Slammed At Trial As Feds Rest Their Case
by Libby Rainey, San Francisco Chronicle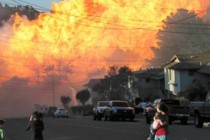 Federal prosecutors rested their case against Pacific Gas and Electric Co. on Thursday after five weeks of testimony in the company's criminal trial alleging pipeline-safety violations.
The prosecution's final witness testified under cross-examination Thursday that PG&E breached the investigation of the September 2010 pipeline explosion that killed eight people and destroyed 38 homes by "pre-interviewing" witnesses in at least two instances. It was behavior that made him consider eliminating PG&E as a party to the investigation altogether, said Ravi Chhatre, the National Transportation Safety Board's lead investigator in the San Bruno case.
Chhatre, who repeatedly called the company's actions a "no-no," said he asked for the removal of Robert Fassett, PG&E's liaison to the investigation, after the utility's attorneys interviewed a retired worker just before the employee was scheduled to speak with investigators. The worker had helped to install the failed portion of the San Bruno pipeline years before.
Although Fassett was promptly replaced, the misconduct continued, Chhatre told the jury.
The investigator said Thursday that the company's attorneys also spoke to employees and former employees with knowledge of a 1988 leak on the San Bruno pipeline before scheduled interviews with the NTSB. After that, he said he decided not to interview any other witnesses.
Continue reading on the San Francisco Chronicle's website »

Tags: CPUC, PG&E, San Bruno Explosion