Proposed Federal Laws & Regulation That Could Help Consumers In 2014
by Kate Cox, Consumerist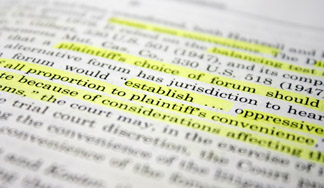 This week, the 113th Congress returns for its second session, ideally to enact legislation throughout 2014, some of which could help consumers if they were to become law.
But for all the legislation introduced in the House and Senate every year, only a tiny fraction of bills make it much farther than a press release.  On average, 11% of bills make it through committee to be considered by the larger legislative body and only around 3% are enacted, according to GovTrack.
Here are four key areas — mostly proposed laws and one policy — to keep an eye on throughout the new year. If you want to see any of these bills become law, make sure you let your representatives and senators know.
Antibiotic Resistance and Superbugs
There have been warnings about bacteria developing resistance to antibiotics since Alexander Fleming first made useful penicillin in the 1920s.  As we approach the century mark of that discovery, rampant overuse of antibiotics has made the indications more urgent and more dire.
Millions of Americans already get sick from antibiotic-resistant bugs every year, and that number is only projected to increase.  It's genuinely scary stuff and left unchecked, could be the biggest setback in modern medicine.  If antibiotics become useless, then anything from a cat scratch to a c-section could become routinely fatal–a terrible state of affairs all around.
Although antibiotic drugs are overprescribed in people, the biggest contributor to antibiotic resistance is the overuse of antibiotics in industrial farming of livestock. 80% of the antibiotics sold in this country go to farmers and ranchers, where the meds are administered both to prevent infection due to overcrowded and unclean conditions, and also to promote physical growth in animals.  (More bacon from fewer pigs equals more profit!)
Cutting out the overuse of antibiotics in agriculture could at least mitigate the damage being done to the drugs' efficacy.  In December, the FDA asked farmers and pharmaceutical companies to stop voluntarily.  Because giant corporations of course always love cutting off huge revenue streams when they don't have to, both sides seem disinclined to acquiesce to the FDA's request.
For change to happen, the law may have to intervene.  There are proposed bills in both the House and the Senate that would do just that.
The Senate version, the Preventing Antibiotic Resistance Act of 2013 (S. 1256), was introduced in June by Sen. Dianne Feinstein (D-CA).  The House bill, the Preservation of Antibiotics for Medical Treatment Act of 2013 (HR 1150), was introduced by Rep. Louise Slaughter (D-NY) in March.
The bills would amend the Food, Drug, and Cosmetic Act in order to phase out the use of "medically important antimicrobial" drugs in "nontheraputic use"–that is, for anything except actually treating existent disease or infection, as opposed to the rampant preventative and growth-promoting use antibiotics see today.
Student Loan Borrower Bill Of Rights
Student loans are a huge business–and for borrowers who spend the prime years of their adult lives saddled with debt, they can be a huge problem.  It's one thing to owe piles of money, but it's another when bad business practices make repayment and money management more onerous than they should be.
In October, the Consumer Financial Protection Bureau released a report highlighting many of the key problems with the student loan industry.  In particular, the report looks at how challenging it can be to pay one's loan off early when lenders apply payments haphazardly or mix accounts.  In December, the CFPB added oversight of the largest third-party, non-bank student loan lenders.
In response to the CFPB's report, Senators Barbara Boxer (D-CA), Dick Durbin (D-IL), Elizabeth Warren (D-MA), and Jack Reed (D-RI) introduced a bill called the Student Loan Borrower Bill of Rights.  As the senators explained in their press release, the bill would cover six main areas:
The right to have options such as alternative payment plans to avoid default.
The right to be informed about key terms and conditions of the loan and any repayment options to ensure changing plans won't cost more.
The right to know your loan's servicer and who to reach out to when there is a problem.
The right to consistency when it comes to how monthly payments are applied. Lenders and servicers should also honor promotions and promises that are advertised or offered.
The right to fairness, like grace periods when loans are transferred or debt cancellation when the borrower dies or becomes disabled.
The right to accountability, including timely resolution of errors and certification of private loans.
Arbitration Fairness
Mandatory binding arbitration: it's that thing where companies can bury a clause in their terms of use that takes away your right to sue them if they screw up.
And it's not just individual lawsuits; thanks to a Supreme Court decision in 2011, companies can prevent their customers from forming class-action lawsuits against them as well.
Arbitration can, theoretically, be a fair process to both the consumer and the business.  Ideally, it's mediated by a disinterested third party.  In reality, arbitration is hugely likely to favor a big business over its customer.
Of course, the court is also theoretically a disinterested third party, but since 2011 courts have effectively been barred from intervening in cases where arbitration is at play–even when the so-called resolution is pretty much useless for a wronged consumer.
In light of the 2011 Supreme Court finding and resulting screwing-over of many consumers, in May 2013 Sen. Al Franken (D-MN) proposed the Arbitration Fairness Act, now with 22 co-sponsors.  (Rep. Hank Johnson of Georgia introduced the companion bill in the House.)
As explained in the press release announcing the bill, the Arbitration Fairness Act:
Restores the original intent of the FAA [Federal Arbitration Act] by clarifying the scope of its application.
Amends the FAA by adding a new chapter invalidating agreements that require the arbitration of employment, consumer, civil rights, or antitrust disputes made before the dispute arises.
Restores the rights of workers, consumers, and small businesses trying to compete to seek justice in our courts
Ensures transparency in civil litigation.
Protects the integrity of the Civil Rights Act, the Equal Pay Act, the Americans with Disabilities Act, and the Age Discrimination in Employment Act, among others.
At a hearing in December related to the bill, Sen. Franken had some strong words for a pro-arbitration witness who tried to hide and downplay just how many Americans are affected by the current law.  Because really?  It's pretty much everyone who uses any business or service anywhere.  Kind of a lot of folks.
Wireless Network Outage Transparency
There are times when you really, really want your mobile phone to work.  Like when, say, a large storm has dropped a tree on your house, or a tornado has just removed half the building you were in, or when your street is suddenly under three feet of water.
There are also a lot of times when your cell service might completely crap out and leave your phone unable to work.  Like, when, say, a large storm has dropped a tree on your house, or a tornado has just removed half the building you were in, or when your street is suddenly under three feet of water.
Close to 40% of American households no longer have traditional land-lines, according to Consumer Reports.  That means millions of people are turning to their cell phones in an emergency.  But is the mobile provider likely to be up and running when everything else goes down?
Until now, there has been no data available to consumers on the performance of wireless providers in emergencies.  The FCC has proposed to change that.  If a mobile carrier goes down in your area when a hurricane comes through, or if it manages to stay up when the power's out all over, the FCC wants you to have that information available before you go signing two-year contracts.
The proposed rule change would work like this: whenever a major event, like a blizzard or a hurricane, causes a big wireless network outage, wireless companies would have to report in.  Each carrier in an affected county would be required to give the FCC a daily status update on its cell towers in the area.  The FCC would then publish the information, making it easily available to consumers.
Emergency reliability may not be the top priority for every customer when they choose which carrier to go with, but it's helpful to know in advance if you can count on your cell phone to call for help in a disaster.
Tags: Antibiotics, Cell Phones, Federal Legislation, Forced Arbitration, Student Loans