Proposed Rules Take Second Stab At Holding For-Profit Colleges Accountable For Graduate's Success
by Ashlee Kieler, Consumerist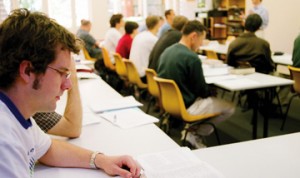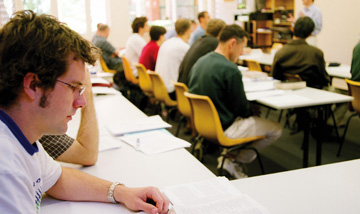 The Department of Education is making a second attempt to rein in those for-profit colleges that benefit from financial aid to students without providing them the education needed to find gainful employment after graduation. But some consumer advocates say the proposed regulations don't do enough to help students.
The proposed regulations [PDF] set standards for career colleges – those schools that offer specialized training programs in recognized occupations – to do a better job of preparing students for gainful employment, or risk losing access to taxpayer-funded federal student aid.
Among the new requirements set out in the proposed regulations, institutions must certify that all career-education programs meet applicable accreditation requirements, along with state and/or federal licensure standards.
Programs would be deemed failing if loan payments of typical graduates exceed 30% of discretionary income or 12% of total annual income. Programs would be given a warning if a student's loan payments amount to 20 to 30% of discretionary income, or 8 to 12% of total annual income. Discretionary income is defined as above 150% of the poverty line and applies to what can be put towards non-necessities.
For sake of an example, say the typical recent graduate of a career education program earns $28,000. Those graduates would need to average below $2,240 in annual student loan payments for the school to be out of the warning zone. If those same graduates are paying an average of more than $3,360 a year in loan payments, that school would be at risk for losing federal aid funds.
Additionally, institutions must publicly disclose information about the program costs, debt, and performance of their career education programs so that students can make informed decisions.
Even if the new rules for-profit schools wouldn't be held accountable right away.
"Through these provisions we intend to ensure that in the initial few years after the proposed regulations become effective, institutions would have a meaningful opportunity and reasonable time to improve their programs and to ensure that those improvements would be reflected in rates," the rules state.
For-profit colleges, which receive about 90% of their funding from student aid, have continually come under scrutiny for failing to demonstrate that students could find gainful employment in the fields in which they had been trained.
The schools have been criticized for failing to provide sufficient education and guidance to students who are then stuck without jobs and without the ability to pay back student loans. In fact, a 2012 Dept. of Education report found that more than 1-in-5 for-profit college graduates default on their student loans.
"Higher education should open up doors of opportunity, but students in these low-performing programs often end up worse off than before they enrolled: saddled by debt and with few—if any—options for a career," U.S. Education Secretary Arne Duncan said in a news release. "The proposed regulations address growing concerns about unaffordable levels of loan debt for students enrolled in these programs by targeting the lowest-performing programs, while shining a light on best practices and giving all programs an opportunity to improve."
In 2011, Dept. of Education issued a similar rule that required colleges to show they actually prepares students for gainful employment or risk losing money. However, just a year later, a federal judge blocked major provisions of that rule, forcing the department to start over.
Officials with the Institute for College Access & Success say the newly proposed regulations still put students at risk and fail to address recommendations made by more than 50 organizations last month.
The groups – including advocates for consumers, veterans, and students – asked the President to help prevent the for-profit college industry from weakening the rule, which was first proposed by the Dept. of Education last summer.
"While we commend the Administration for issuing a proposed gainful employment regulation today, the draft rule is soft on career education programs that consistently leave students with debts they can't repay, and too hard on low-cost programs where most students do not borrow at all," Pauline Abernathy, Vice President of the Institute for College Access & Success, says in a statement.
Abernathy says the proposal fails to address programs where 99% of students drop out with heavy debts that they can't pay down could still pass the proposed standards, and schools could still enroll students in programs that lack the accreditation needed for employment in the state where the students reside
Also last month, Consumerist reported on a federal lawsuit filed against a for-profit college by former employees alleging the school made false promises to students of gainful employment after completing a short program.
Seven former employees are part of a federal lawsuit accusing the Harris School and its parent company, Premier Education Group, of misleading students — who paid more than $10,000 a year for various programs — about career prospects, and falsifying records to enroll students and keep them enrolled in order to continue receiving government grant and loan dollars.
Friday's proposed regulation comes two months after the federal government launched a new reporting system to streamline consumer complaint investigations of veterans' and servicemembers' being targets of higher education abuse.
The new proposal will be published in the Federal Register, after which the public will have 60 days to comment on the draft regulations. The rule will be finalized in the next several months.
Tags: For-Profit Colleges