Prosecutor Begins PG&E Trial With Blistering Opening Statement
by Bob Egelko, San Francisco Chronicle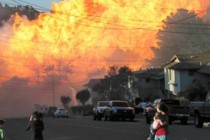 A jury in San Francisco heard sharply conflicting portrayals of Pacific Gas and Electric Co. at Friday's opening session of the company's criminal trial on charges of violating federal pipeline-inspection laws, with one attorney calling it a deceptive scofflaw that chose profits over safety, and her adversary describing it as a community benefactor that did its best to comply with unclear government standards.
After the September 2010 San Bruno pipeline explosion that killed eight people and destroyed 38 homes, PG&E "made a deliberate choice to not follow these … safety regulations," Assistant U.S. Attorney Hallie Hoffman, the lead prosecutor, said in her opening statement in a packed federal courtroom.
PG&E attorney Steven Bauer countered that the laws the company is charged with knowingly violating, on testing, maintenance and record keeping for gas pipelines, were so vague that some federal regulators had been "debating some of the very same issues" that had confused the utility and its engineers.
"These folks (PG&E's 20,000 employees) live in the communities where these pipelines are," Bauer told the jury. "They have families. They have kids. They cross these pipelines every day," and have no reason to endanger themselves and their neighbors.
But Hoffman maintained that the utility simply decided to "cut safety expenses at the same time it was taking actions to maximize profits."
Continue reading on sfgate.com »
Tags: CPUC, PG&E, San Bruno Explosion