Report: Student Loan Debt Isn't Just An Issue For Young Americans
by Ashlee Kieler, Consumerist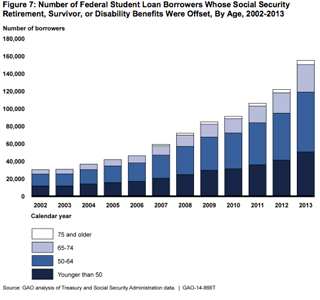 When we talk about student loan debt it's easy to picture a spry, young 20-something who is struggling to get out from under mountains of high-interest loans. But, as a new report points out, that's not always the case, sometimes those who graduated even decades ago continue to struggle in paying back their student loans.
A new report [PDF] from the Government Accountability Office found that while fewer household heads often have higher amounts of mortgage and credit card debt, they also continue to be plagued by student loan debts.
An analysis of data from the Survey of Consumer Finances found that 3% of households – about 706,000 households – headed by those ages 65 years or older carry student loan debt. Although, the student debt level for those 64 years or younger is significantly higher – 22 million households, the issues faced by older American's who tend to live on fixed incomes can't be discounted.
The percentage of households headed by those aged 65 to 74 years of age with student debt grew from just 1 percent in 2004 totaling $2.8 billion to about 4 percent, or $18.2 billion in 2013.
The real issue is the number of older Americans who hold defaulted federal student loans – nearly a quarter of older American's loans are in default – which often leaves the retirees living below the poverty threshold.
While the Department of Education can wait up to a year before taking aggressive action to recover funds, when they do begin the process they can take a portion of a borrower's Social Security disability, retirement or survivor benefits, the GAO reports.
From 2002 through 2013, the number of individuals whose Social Security benefits were offset to pay student loan debt increased from about 31,000 to 155,000. Among those 65 and older, the number of individuals whose benefits were offset grew from about 6,000 to about 36,000 over the same period.
PBS Newshour reports that several borrowers who fit in the older American's category, or will in the next few years, testified during a Senate Aging Committee on Wednesday.
Rosemary, 57, says she might be well into her 80s before she pays off her student loans. Other financial issues, such as a divorce, health problems and an underwater mortgage, took priority over her loans, and she now worries that her Social Security benefits will decline to make payments on the debt.
The California resident says she amassed $64,000 in student loans starting in her 30s while she worked toward an undergraduate and graduate degrees. She's worked multiple jobs to pay off her credit card debt and renegotiated the terms of her mortgage, but hasn't been able to work on her student loan debt.
"I find it very ironic that I incurred this debt as a way to improve my life, and yet I still sit here today because the debt has become my undoing," she said during a Senate Aging Committee on Wednesday.
While the GAO report found that about 80% of student loan debt held by seniors was for their own education, it doesn't specify when those loans were taken out. The report notes that loans can be paid back anywhere from one decade to 25 years after the loan was originated.
So that means some of these older Americans may have borrowed when they were younger and simply accumulated interest over the years, or they could have borrowed in order to go back to school later in life.
Tags: Senior Issues, Student Loans