San Bruno: PG&E Should Pay $1.6 Billion Penalty As Punishment For Fatal Blast Says Top Regulator
by George Avalos, San Jose Mercury News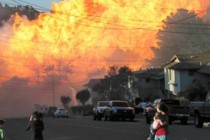 SAN BRUNO – Potentially signaling stricter oversight of Northern California's largest utility, state regulators Friday proposed to fine PG&E $1.6 billion for the failures that led to the fatal gas pipeline explosion in San Bruno, a significant increase from an earlier proposal.
Friday's proposal, announced by Michael Picker, the new president of the California Public Utilities Commission, also addresses earlier criticisms of the first proposal by requiring the utility's shareholders to pay more of the fine, and directs more of the money to pipeline safety upgrades.
Critics of the utility and the PUC mostly supported the new proposal.
State Sen. Jerry Hill, a harsh critic of both PG&E and the PUC as well as the commission's former president, Michael Peevey, who headed the PUC at the time of the San Bruno explosion, said he was "very pleased" with the proposal.
"There's a new tone at the PUC," Hill said. "I would not have expected this sort of a proposal under a Peevey administration. What a difference a few months makes."
The penalty, which could be approved as soon as the April 9 meeting of the five PUC commissioners, is the latest fallout from the September 2010 explosion that killed eight and wrecked a quiet San Bruno neighborhood. It also comes after the release of emails that demonstrated a cozy relationship between the PUC and the utility, disclosures that led to widespread criticism of Peevey, who left the agency toward the end of last year.
Friday's proposal appears to reflect the changed environment for both the PUC and PG&E. The initial ruling on the fine, issued by administrative law judges last year, recommended a total fine of $1.4 billion and that $950 million of the fine be paid to the state general fund. It did not impose any financial obligation on the utility's shareholders to pay for safety improvements in the PG&E gas transmission system.
Continue reading on the San Jose Mercury News website »
Tags: CPUC, PG&E, San Bruno Explosion