See How A Huge Utility Stonewalled Regulators After Its Fatal Pipeline Disaster
by Michael Hiltzik, Los Angeles Times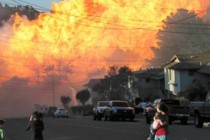 The 2010 gas pipeline explosion in San Bruno, Calif., which killed eight people, stands as exhibit A for the incompetence of Pacific Gas & Electric, California's biggest utility.
But not until now have we had a real window into the sheer juvenile arrogance with which PG&E executives handled government investigators looking into the blast.
PG&E employees, one official recalled, were "giggling, laughing…sarcastic…mocking…[and] offensive" when questioned by investigators for the National Transportation Safety Board, which was responsible for determining the causes of the disaster. They were "shady" and their answers "fishy." Another NTSB investigator recalled an "ugly" and "toxic atmosphere" in his talks with PG&E. A third compared getting information from PG&E to "pulling teeth."
It bears repeating: Eight people were dead.
These details come from summaries of interviews of NTSB investigators conducted last year by federal prosecutors and others.  The NTSB already had assigned almost all the blame to PG&E. The California Public Utilities Commission followed up with a $1.6-billion penalty, the largest it has ever assessed against a utility, by a substantial margin. By then federal prosecutors had indicted PG&E for, among other things, obstructing the investigation.
Continue reading on latimes.com » The Times limits free pageviews per month.
Tags: CPUC, PG&E, San Bruno Explosion